Turning Veterans into Cyber Warriors: Booz Allen and Expert Panel Discuss Challenges and Opportunities
Turning Veterans into Cyber Warriors: Booz Allen and Expert Panel Discuss Challenges and Opportunities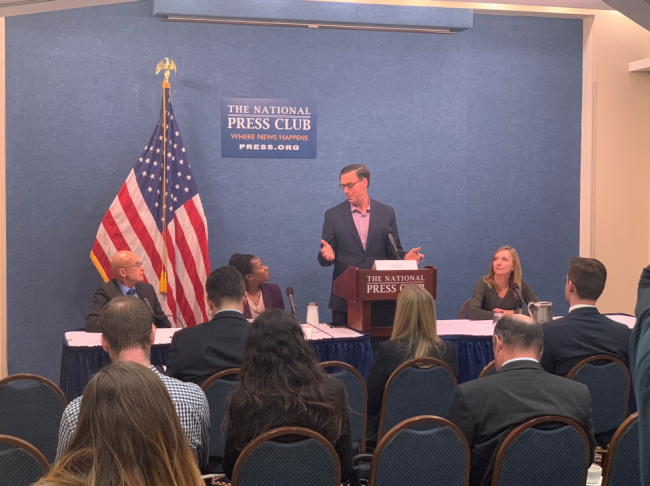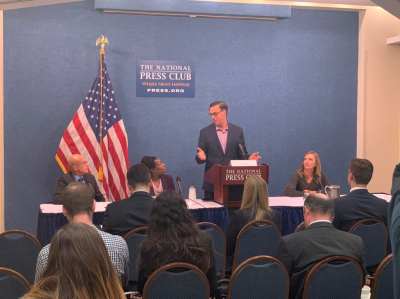 tweet me:
Learn how @BoozAllen, @Microsoft are helping veterans bridge the "clearance gap" http://bit.ly/2A7m70h
Wednesday, December 19, 2018 - 2:35pm
As organizations migrate more and more sensitive data to the cloud and work in general becomes increasingly tech-focused, the cybersecurity field has developed a talent supply problem. According to the 2017 Global Information Security Workforce Study, "We are on pace to reach a cybersecurity workforce gap of 1.8 million by 2022, a 20 percent increase over the forecast made in the 2015." 
Meeting current demand and hiring goals is easier said than done, however, especially for civil government and Department of Defense positions that require security clearances. Should these organizations "up-clear" their existing workforce—a time-consuming process—or "up-skill" cleared professionals, like servicemembers transitioning to the civilian workforce?
Panelists discussed these challenges, and the potential solution of cyber-trained veterans, at a November 15 event at Washington's National Press Club featuring Booz Allen, LinkedIn, Microsoft, and the U.S. Chamber of Commerce Foundation's Hiring Our Heroes initiative.
Bridging the "clearance gap"
Laura Schmiegel, military program lead with Booz Allen, joined Microsoft VP of Military Affairs Chris Cortez, LinkedIn Head of North America Policy Nicole Isaac, and Colonel (Ret.) H. Charles Hodges Jr., senior director with Hiring Our Heroes explored the need for cleared talent, particularly in the cybersecurity and AI/machine learning fields, and ways to put veterans in these positions as soon as possible.
"The hiring situation is a challenge," said Schmiegel. "It can take well over a year for cyber professionals to get a security clearance. Meanwhile, veterans have clearances but often not the requisite certifications. Programs like those by Microsoft and Booz Allen can help them skill up and become more job ready."
Booz Allen trains veterans and other employees through its Cyber University. This includes a flexible cyber certification program offering in-person, virtual instructor led, and self-paced options that has a 90 percent success rate—which is above the industry average. The firm also partners with nonprofit organizations like FourBlock and Operation Code, and sponsors the cyber track of Project Next S.T.E.P., a program created by the USO of Metropolitan Washington.
Connecting veterans to cyber careers
In addition to providing transitioning veterans with free training for Cisco, PMP, and other certifications that don't require a college degree, Project Next S.T.E.P. hosts quarterly dinners for program participants to further introduce them to the field. As a public service, Booz Allen sends experts from its own cyber team. "They share interview tips, a day in the life, things you should know so veterans can find the right fit and ease the transition," Schmiegel said.
In addition to building relevant skills, veterans also need access to the cyber career opportunities they're training for. Panelists discussed the barriers presented by job descriptions and contracts that require certain tech certifications or a college degree.
These barriers can be significant. According to Schmiegel said, more than half of cybersecurity job postings in the Washington, D.C., area ask for a CISSP certification, which requires at least four years of experience.
"Many servicemembers have been doing the exact same job in the military without a specific certification or bachelor's degree," said Schmiegel. "These requirements can block a qualified veteran."
 "Often the best indicator of an excellent candidate is experiential learning," said Booz Allen Senior Vice President Andrea Inserra. "Veterans have the practical experience we're looking for."
Learn more about how Booz Allen is training the next generation of cyber elites and supporting veterans, spouses, and the military community.
More From Booz Allen Hamilton
Wednesday, August 21, 2019 - 8:00am
Monday, August 19, 2019 - 4:30pm
Friday, August 16, 2019 - 10:00am