T. Rowe Price Releases 2017 Corporate Social Responsibility Update
T. Rowe Price Releases 2017 Corporate Social Responsibility Update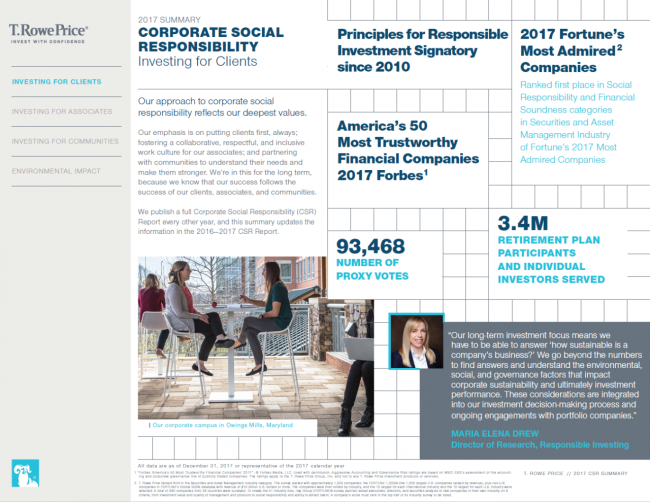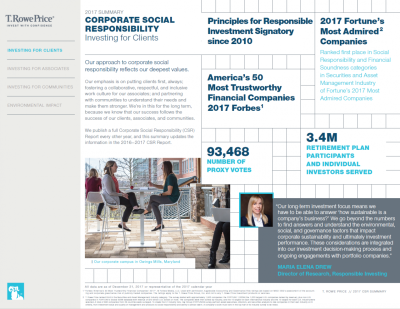 tweet me:
.@TRowePrice releases 2017 Corporate Social Responsibility Update http://bit.ly/2vJqZWD
Wednesday, August 8, 2018 - 9:00am
BALTIMORE, August 8, 2018 /3BL Media/ - T. Rowe Price has released its 2017 Corporate Social Responsibility (CSR) Update, which is available at troweprice.com/CSRreport. The firm publishes a full CSR Report bi-annually, and the 2017 Update offers new data to complement and update information previously reported in the 2016 – 2017 CSR Report.
Highlights from the 2017 Update include:
Achieved a perfect 100 score on the Corporate Equality Index published by the Human Rights Campaign.

27% of the firm's U.S. workforce are minorities and 44% of its global workforce are women.

Associates volunteered 43,000 hours in the community in 2017.

$22.4 million in total firm giving to charitable causes in 2017.

4.3 million people were reached through the firm's financial education program, Money Confident Kids, in 2017.  

Reduced greenhouse gas emissions by -14.6% between 2010 and 2017. While the firm's associate population grew by 57.5% during that timeframe, it reduced greenhouse gas emissions per associate by 45.8%.
QUOTE
Renee Christoff, head of Corporate Responsibility T. Rowe Price
"We are pleased to share our progress and how the firm is having a positive impact. Corporate Responsibility isn't just a nice-to-do at T. Rowe Price—it is an integral part of how we operate as a global investment manager. Our client first philosophy attracts people who have a desire to serve others and that translates into how we invest for clients, our associates, and our communities."   
ABOUT T. ROWE PRICE
Founded in 1937, Baltimore-based T. Rowe Price Group, Inc. (NASDAQ-GS: TROW) is a global investment management organization with $1.044 trillion in assets under management as of June 30, 2018. The organization provides a broad array of mutual funds, subadvisory services, and separate account management for individual and institutional investors, retirement plans, and financial intermediaries. The company also offers a variety of sophisticated investment planning and guidance tools. T. Rowe Price's disciplined, risk-aware investment approach focuses on diversification, style consistency, and fundamental research. For more information, visit troweprice.com or our Twitter, YouTube, LinkedIn, Instagram, and Facebook sites.
CONTACT US
Heather McDonold
T. Rowe Price
410-345-6617
heather_mcdonold@troweprice.com
 
Sandra Van Vloten-McGraw
T. Rowe Price
410-345-2445
More From T. Rowe Price
Monday, December 2, 2019 - 8:35am
Tuesday, November 26, 2019 - 7:45am
Wednesday, November 20, 2019 - 9:15am