Smithfield Foods Video: A Landmark Investment to Reduce Greenhouse Gas Emissions 25 Percent by 2025
Smithfield Foods Video: A Landmark Investment to Reduce Greenhouse Gas Emissions 25 Percent by 2025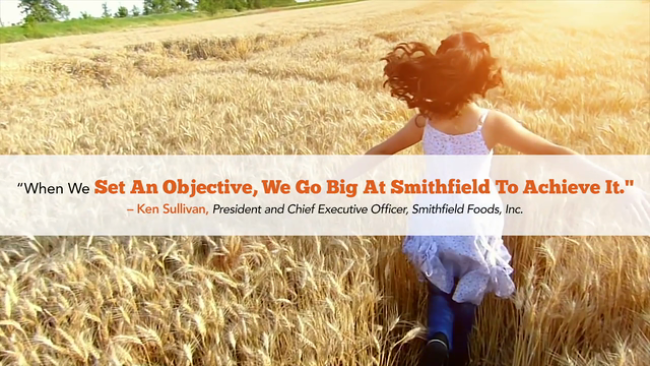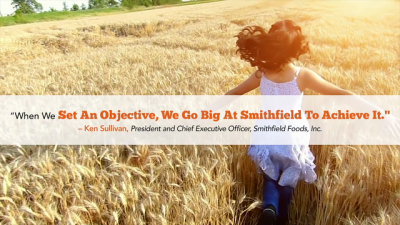 tweet me:
#Video @SmithfieldFoods expansion of #SmithfieldRenewables projects to move closer to their goal to reduce the their #GHG emissions 25 percent by 2025: http://bit.ly/2yNYt8s
Monday, November 5, 2018 - 12:05pm
"When we set an objective, we go big at Smithfield Foods to achieve it. This announcement is the culmination of decades spent studying and perfecting the commercial viability of 'manure-to-energy' projects. Our investment in these projects underscores our longstanding commitment to sustainability, as well as our promise to produce good food in a responsible way," said Kenneth M. Sullivan, president and chief executive officer of Smithfield Foods, Inc.
Click here to read more about Smithfield Foods' landmark investment in innovative projects designed to help meet its goal to reduce greenhouse gas emissions (GHG) 25 percent by 2025.
About Smithfield Foods
Smithfield Foods is a $15 billion global food company and the world's largest pork processor and hog producer. In the United States, the company is also the leader in numerous packaged meats categories with popular brands including Smithfield®, Eckrich®, Nathan's Famous®, Farmland®, Armour®, Farmer John®, Kretschmar®, John Morrell®, Cook's®, Gwaltney®, Carando®, Margherita®, Curly's®, Healthy Ones®, Morliny®, Krakus®, and Berlinki®. Smithfield Foods is committed to providing good food in a responsible way and maintains robust animal care, community involvement, employee safety, environmental, and food safety and quality programs. For more information, visit www.smithfieldfoods.com, and connect with us on Facebook, Twitter, and LinkedIn.
More From Smithfield Foods
Wednesday, June 24, 2020 - 9:45am
Wednesday, April 22, 2020 - 10:45am
Tuesday, April 21, 2020 - 10:05am