SEED SPOT Entrepreneurs Pitch Impact-Driven Ventures at Booz Allen's Innovation Center
SEED SPOT Entrepreneurs Pitch Impact-Driven Ventures at Booz Allen's Innovation Center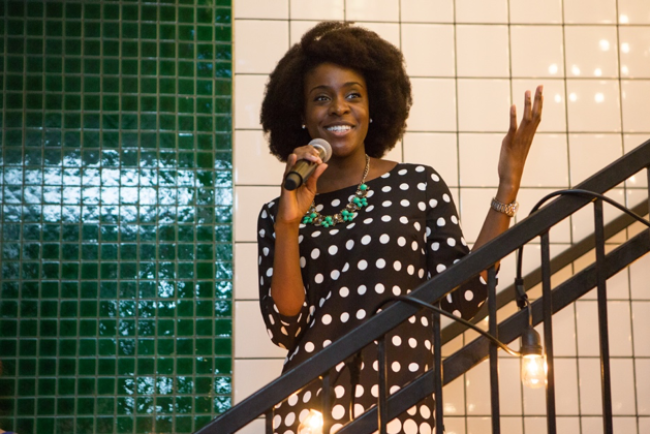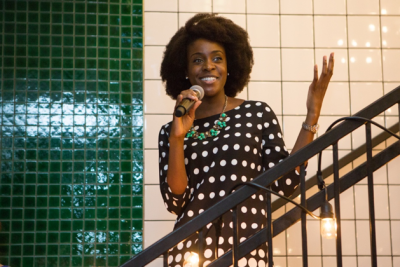 tweet me:
@seedspot #socent entrepreneurs pitch their ventures to a live community audience at @BoozAllen's Innovation Center: http://bit.ly/DCPitchNight1 #DCTech
Monday, September 17, 2018 - 9:30am
To conclude two days of idea exploration, customer validation, market analysis, and prototyping, SEED SPOT hosted a Pitch Night at Booz Allen's Innovation Center on Thursday, September 13 from 6:00-8:00pm. A group of up-and-coming impact-driven entrepreneurs will pitch their ventures to a live community audience of fellow entrepreneurs, startup ecosystem builders, and potential investors.
Pitch Night is the culminating event for SEED SPOT's 2-Day Launch Camp, an interactive program empowering problem-solvers to create market-based solutions for local, national, and global problems. Entrepreneurs have the opportunity to win in-kind and cash prizes based off their preparation, the creativity of their solutions, and recognition from their peers.
As part of the 2-Day Launch Camp, participants were guided through SEED SPOT's proprietary social impact curriculum, matched with one-on-one mentorship, and advised by content experts in topics ranging from legal to accounting. After Pitch Night, they will be inducted into SEED SPOT's growing alumni network and receive access to a breadth of resources that encourage their momentum post-program.
The continued growth of their ventures is enabled by strategic introductions to national venture funds, pro bono legal support, discounted marketing and branding services, up to $10,000 in 0 percent interest loans through Kiva, up to $150,000 in Amazon Web Services cloud computing credits, discounted office space, and a customized impact tracking one-on-one consultation from SEED SPOT.
SEED SPOT is a social impact incubator with programs nationally that has empowered 421 entrepreneurs. Committed to creating onramps for traditionally underserved entrepreneurs, 49 percent of SEED SPOT's alumni are female founders and 45 percent are minority founders. These entrepreneurs have raised over $10 million in capital, created 1,050 new jobs, and positively impacted the lives of 2.2 million people nationwide.
Previous Washington, DC alumni include: The Mentor Method, a social venture committed to matching corporate clients with diverse tech talent; imby, a platform enabling the citizens of four DC neighborhoods to voice their opinions in local real estate development; and Mia Learning, a chatbot that is helping children make powerful choices about reading.
Applications for SEED SPOT's next 2-Day Launch Camp running October 26-27 will open soon.
-  ###  -
SEED SPOT is nationally ranked by Gust as one of the Top 20 Accelerators in the World and in 2015 was named by Cisco & UBI Global as one of the Top 3 Social Impact Incubators in the United States. SEED SPOT runs two impact areas: Communities and Schools. SEED SPOT Communities supports local ecosystems empowering adult entrepreneurs through two programs: the 2-Day Launch Camp and the Impact Accelerator. SEED SPOT Schools empowers high schools to teach social entrepreneurs with Explore: Intro to Impact-Driven Entrepreneurship and Build: Designing an Impact-Driven Business.
SEED SPOT also won a 2016 Emmy for their partnership with Univision supporting Latino entrepreneurs through Véndeme tu Sueño. With a mission to educate, accelerate, and invest in the dreams of social entrepreneurs, SEED SPOT supports entrepreneurs building products, services, and technologies that improve lives or communities. For more information, visit: https://seedspot.org/.
About Booz Allen
For more than 100 years, business, government, and military leaders have turned to Booz Allen Hamilton to solve their most complex problems. They trust us to bring together the right minds: those who devote themselves to the challenge at hand, who speak with relentless candor, and who act with courage and character. They expect original solutions where there are no roadmaps. They rely on us because they know that—together—we will find the answers and change the world.
We solve the most difficult management and technology problems through a combination of consulting, analytics, digital solutions, engineering, and cyber expertise. With global headquarters in McLean, Virginia, our firm employs approximately 24,600 people globally, and had revenue of $6.17 billion for the 12 months ended March 31, 2018. To learn more, visit www.boozallen.com. (NYSE: BAH)
More From Booz Allen Hamilton
Monday, October 19, 2020 - 8:00am
Thursday, October 15, 2020 - 8:00am
Wednesday, October 14, 2020 - 8:00am