The Responsible Business Summit Europe 2020 - 6 Key Themes
The Responsible Business Summit Europe 2020 - 6 Key Themes
All sessions fall under 6 key themes aiming to deliver against the 2030/2050 horizons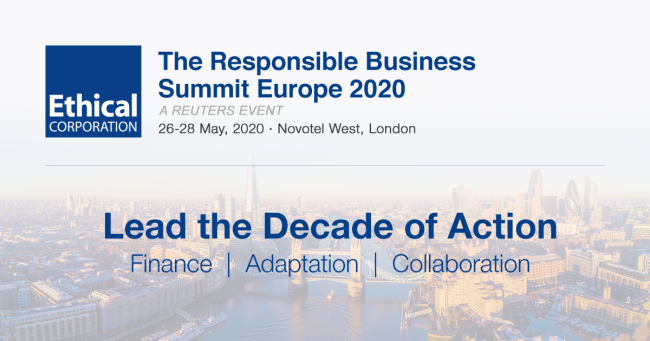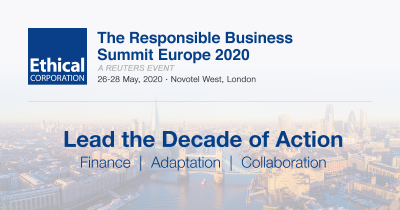 tweet me:
.@ethical_corp have released the 6 key themes for their Responsible Business Summit Europe 2020. Download the brochure and discover the full event agenda and expert speakers here: http://tiny.cc/64itfz
Thursday, November 7, 2019 - 9:30am
November 7, 2019 /3BL Media/ - The time for dialogue is over, action is needed is needed now, - but how? The Responsible Business Summit Europe (26-28 May 2019, London) we will convene 750+ leaders from across the globe to share their latest strategies, and more importantly, tangible insights into how they are helping deliver the required transformation of business. This is the only summit with all three leading stakeholders [CEOs, sustainability leaders and investors] all in one room.
Download the latest brochure and discover the full event agenda and expert speakers  here
We have ambitious plans for the 2020 #RBSEU event – the time for theory and what/why is over. We are going to deliver three days of output-driven sessions and networking on how business is changing now, to deliver against the 2030/2050 horizons. All sessions fall under 6 key themes:
Strategy & Innovation – Adapt and Change: Use data, science and the latest trends to determine a full impact analysis of current business impacts and future opportunities.
Operations & Supply Chain – How to Implement Change: From energy efficiency and sustainable R&D to supplier empowerment and Scope 3, deep dive on how companies are building resilience and regenerative strategies across their entire operations.
Climate Action and Circular Innovation – Addressing key impacts: Opportunity to showcase the latest technologies and innovations that will tackle key environmental impacts to deliver a clean, circular system – and how!
ESG Disclosure and Investor Engagement – Bridging the gap: Corporates and investors share best practice approaches around ESG-driven disclosure and how to bridge the gap between the two communities
Purposed-Driven Communications – Driving action and advocacy: In-depth look at how business can successfully communicate its sustainable vision and impact-driven purpose that demonstrates integrity and leadership, whilst driving the required external action
New for 2020 -The Future of Forums: Half-day devoted forums on the key economic infrastructures (Energy, Apparel, Mobility, Agriculture…) that must undergo systemic change to meet the 2050 net-zero ambitions. Benefit from:

Learning the latest trends and practical tools in consumer insights, technologies, responsible investment and where regulation is heading across the future of energy, mobility, food and fashion.
Build disruptive thinking into your business model so that you can have meaningful conversations with your board to equip your company for the future
Some of the business leaders already confirmed to lead discussions include: Unilever, Aviva, Hermes Investment, Innocent Drinks, Hilton, Nokia, WBCSD, The Coca Cola Company, BT, BlackRock, Telefonica, M&G Investments, UBS and many more…
Find out more about our unrivalled speaker line-up and agenda. Download the brochure now
Contact
+44 20 7375 7213ext. 7213
More From Ethical Corporation
Thursday, August 6, 2020 - 5:00am
Wednesday, August 5, 2020 - 7:20pm