Pro Bono as a People Strategy in Action: GSK
Primary tabs
Pro Bono as a People Strategy in Action: GSK
How GSK creates shared value between CSR and HR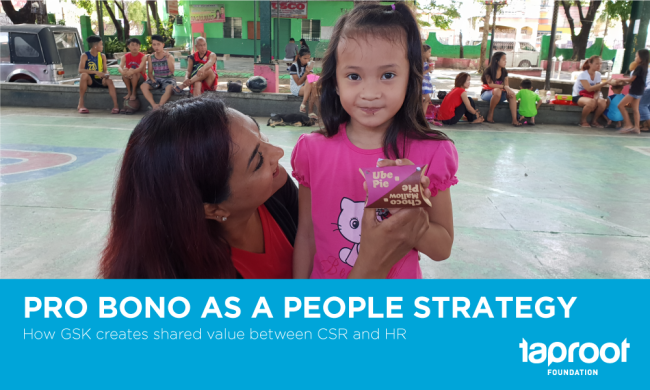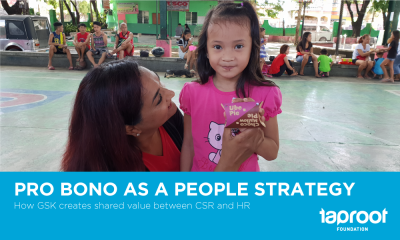 tweet me:
91% of volunteers in the @GSK PULSE program report personal development in cultural awareness. Read how GSK and other corp leaders are tying #probono into their D&I strategy in the new @taprootfound report http://bit.ly/2OGfRBf
Thursday, November 29, 2018 - 12:30pm
Taproot has long made the case that a strong corporate pro bono program is a triple win—nonprofits receive the support they need, companies build deeper relationships with their communities, and employees have the opportunity to apply their skills in new and meaningful ways. While there is a robust foundation of evidence supporting the claim that pro bono is a powerful social impact strategy, practitioners often struggle to articulate the business case for pro bono.
Through Taproot's work developing pro bono programs across the corporate sector, we've learned that pro bono can help companies meet key HR objectives like attracting, retaining, and developing their employees. In this paper, we explore how pro bono practitioners can align their pro bono efforts with their company's HR strategy to create shared value across the company.
Case Study: GSK's PULSE Volunteer Partnership
GSK's PULSE Volunteer Partnership is an opportunity for eligible employees to be matched with a nonprofit and provide full-time skills-based volunteering over the course of either a local three- or six-month assignment or an international six-month assignment. The PULSE program is rooted in GSK's threefold change mission:
Change communities by sharing their talent to support nonprofit partners;
Change employees by supporting their leadership development through participation;
Change GSK through employees' application of new skills, bringing fresh perspectives and renewed energy when they return. 
GSK's Approach
GSK's focused recruitment process targets highly motivated employees who are committed to leveraging the inherent talent development components of the PULSE program. Throughout the application process, participants must demonstrate how their participation will allow them to develop professionally and apply new learnings to their work at GSK. Line Managers are also required to submit sponsorship on behalf of applicants, identifying their top development objectives and observations regarding why the applicant is suitable for PULSE. Manu Juneja, Acting Director for GSK's PULSE program, noted that this process is about determining whether the opportunity is in line with an applicant's growth and career trajectory and how it fits in their development plan. GSK establishes broad investment in the PULSE program as a key talent development strategy by targeting best-fit employees and engaging their managers and colleagues in recruitment and impact measurement.
More From Taproot Foundation
Friday, May 17, 2019 - 12:15pm
Tuesday, May 14, 2019 - 10:15am
Monday, May 6, 2019 - 9:00am