NONPROFITS: Tackle Your 2019 Goals With Expert Marketing, Strategy, and Tech Support From Taproot
NONPROFITS: Tackle Your 2019 Goals With Expert Marketing, Strategy, and Tech Support From Taproot
Webinar // Do more with less - tap into pro bono support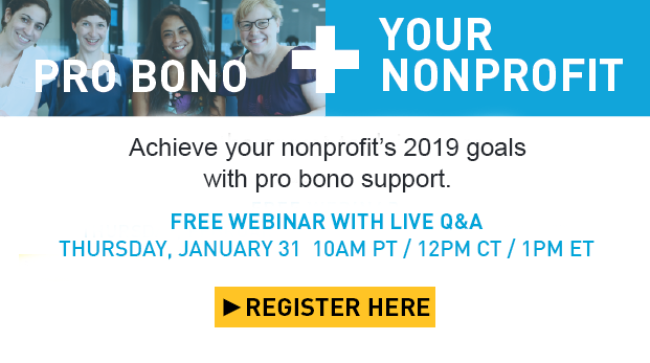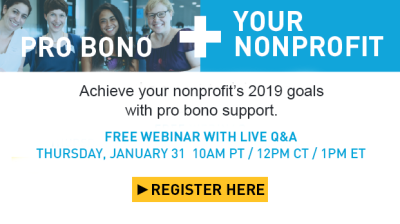 tweet me:
There are 50k+ skilled business professionals at @taprootfound who are passionate about #socialchange. Learn how to connect with them for #probono support at this free 1/31 webinar http://bit.ly/2M4t33h
Thursday, January 24, 2019 - 12:25pm
Thursday, January 31, 2019 at 1 PM EST // 12 PM CST // 10 AM PST
Did you set lofty 2019 goals at your nonprofit? Make them happen by connecting with expert marketing, tech, HR, finance, and strategy volunteers who are passionate about your mission.
Join Taproot Foundation's free webinar for nonprofits on Thursday, January 31 for all the tools you'll need to tap into this valuable support. During the event, you'll learn how to design and manage a successful pro bono project with Taproot's pool of over 50,000 experienced business professionals on the free online platform, Taproot+.
Access to Taproot's programs and this webinar are completely cost free. Can't attend live? Register anyway and we'll send you the recording! 
Thursday, January 31, 2019 at 1 PM EST // 12 PM CST // 10 AM PST
More From Taproot Foundation
Wednesday, October 23, 2019 - 9:20am
Tuesday, October 22, 2019 - 9:15am
Monday, October 21, 2019 - 10:05am