Limitless Learning, Community-Driven Culture Make Booz Allen a Top San Diego Workplace
Limitless Learning, Community-Driven Culture Make Booz Allen a Top San Diego Workplace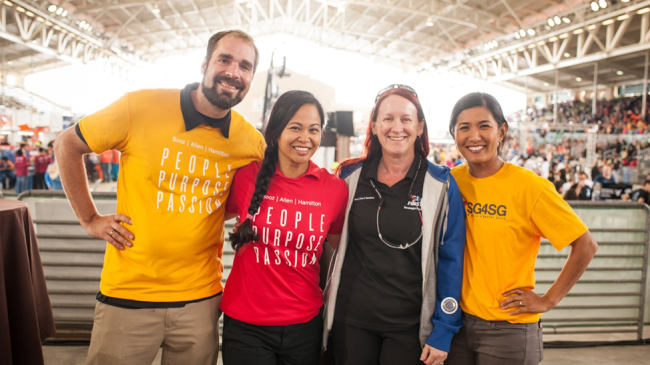 tweet me:
What makes @BoozAllen stand out in tech hub San Diego? http://bit.ly/2zvUH3P
Wednesday, November 28, 2018 - 2:30pm
San Diego is the place to be for tech professionals. The city ranked first among U.S. cities for projected tech hiring in human resource consulting firm Robert Half's annual report of forecasts and trends. In this hot market for talent, Booz Allen continues to stand out.
On November 11, The San Diego Union-Tribune and Energage (formerly WorkplaceDynamics) recognized Booz Allen as a 2018 Top Workplace and honored the tech giant with the Innovation Spotlight Award for being an organization that encourages new ideas.
Booz Allen's San Diego office has a long history of interesting work, from supporting the Navy Marine Corps community for the last 30 years to serving as a longstanding industry partner to the Space and Naval Warfare Systems Command.
"We're excited to welcome cyber professionals, project managers, engineers, data scientists, and others to this world-class city and provide them with the opportunity to do great work, support our clients' missions, and dream about what's next," said Vice President Jennie Brooks, who leads Booz Allen's business supporting Navy clients in San Diego.
Employees shared further secrets to their success.
Learning without limits
When employees start work at Booz Allen San Diego, they join a supportive culture of skill-building, business understanding, and creative collaboration—and they're encouraged to chart a dynamic path, regardless of their designated team or project.
"We work in close-knit, connected teams," said recruiter Alexa Montgomery. "Employees wear multiple hats—they can become experts in both consulting and cyber, for example."
Cybersecurity engineer Kathy Brown attests to this. "I didn't come in with technical experience, but my career manager gave me opportunities to learn and grow."
Engagement from day one and beyond
It's a commitment that starts with Launch, a year-long onboarding experience.
"Our employees' first-year journeys are critical and we want them to feel supported and empowered as they become acclimated to the company," said Bekah Ekstrom, San Diego's Launch lead. "Launch provides them the building blocks to develop professional skills, connect with leaders and mentors, and accelerate their careers."
Booz Allen continues to engage employees with wide-ranging resources, including:
Workshops, conferences, and local learning opportunities with the San Diego Chapter of Women in Defense
Programs like Hiring Our Heroes for veterans and military spouses
The opportunity to coach, judge, and mentor young innovators at FIRST LEGO League competitions
"The culture here is friendly and community-driven," said Montgomery. "While we're a big city, it actually feels like a small town."
Learn more about the San Diego Tribune award and life at Booz Allen's San Diego office.
More From Booz Allen Hamilton
Friday, April 30, 2021 - 8:00am
Thursday, April 29, 2021 - 8:00am
Wednesday, April 28, 2021 - 8:15am