Keeping Data Secure at a Bustling New Jersey YMCA
Keeping Data Secure at a Bustling New Jersey YMCA
In partnership with TechSoup, Symantec provides sophisticated security solutions that meet nonprofit budgets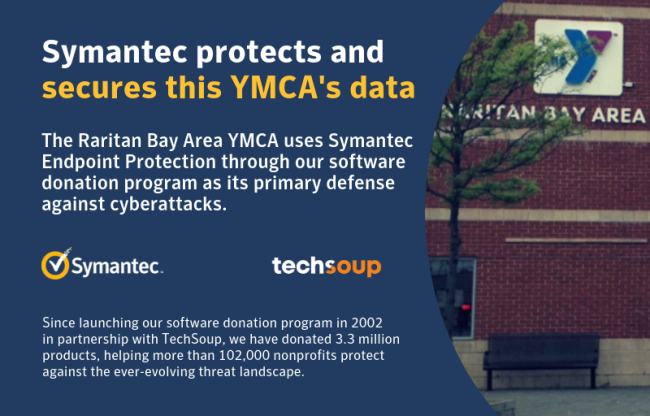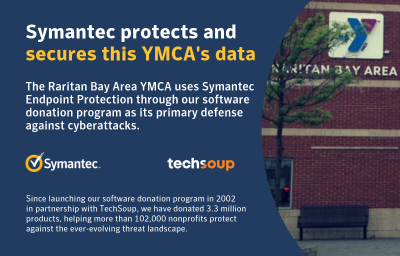 tweet me:
.@Symantec is proud to partner with @TechSoup so that organizations like @ymcaperthamboy have the resources to keep their data secure. https://symc.ly/2Hh5aFQ
Friday, March 15, 2019 - 12:05pm
Product donation is Symantec's largest mechanism to support the nonprofit community and help nonprofits fulfill their missions. In partnership with TechSoup, each year we provide cyber security solutions to nearly 22,000 organizations across 56 countries worldwide, allowing them to secure their most important data wherever it lives. Since launching the software donation program in 2002, Symantec has helped more than 102,000 nonprofits and public libraries solve today's biggest security challenges and protect against the ever-evolving threat landscape.
The Raritan Bay Area YMCA, started in 1912 in Perth Amboy, New Jersey provides a wide array of benefits to its community. For youth, it offers programs like early learning and after-school programming, swim lessons, sports, leadership opportunities, and summer camp. For adults, it provides a range of fitness and wellness programs aimed at creating a "welcoming, safe, and supportive environment for all ages to become healthier and stay well in spirit, mind, and body."
Its center for Support, Success & Prosperity directly assists individuals in their efforts to overcome homelessness in a variety of ways, including providing basic shelter, meals, clothing, and hygiene necessities. And, this YMCA works closely with local community programs to promote healthier and more successful lives in adults through state-run health initiatives and adult education.
A nonprofit with cyber security needs
While this local YMCA chapter may provide an impressive array of services and be part of one of the largest charitable networks on earth, it's nonetheless a nonprofit organization.
"As a nonprofit, one challenge is that its 'customer' is not necessarily buying a product or service, and so there is less to offset IT expenditures," says David DeRitter, the principal IT support at the Raritan Bay Area YMCA. "A customer could be a homeless man getting a meal and shower, or someone unemployed getting help in filling out a job application, or a single mom getting help with after care so she can work. We have the same risks and infrastructure needs that companies have, without the direct compensation to cover those costs."
He adds that as a result of the high numbers of individuals they contact — employees or community members accessing services — there is a greater-than-normal demand on their Internet and Internet-related services.
This means that the organization needs a sophisticated IT security solution. However, at the outset, DeRitter and his team were only utilizing traditional virus scanning software. "As our IT team became more aware of complicated attacks — not just viruses — we knew that this was a very weak solution; our concern was for hackers and social-media-type attacks that put us on a defensive, responsive posture." For this reason, four years ago he decided to adopt Symantec Endpoint Protection through TechSoup as the organization's primary defense against cyber attacks — and continues to use it to this day.
"Going through TechSoup gave the Y access to industry-standard IT solutions within a nonprofit budget. This also served to improve the Y's confidence in its own IT systems," DeRitter says, praising the effectiveness of Symantec Endpoint Protection in its ability to thwart bad actors online from launching cyber attacks against the organization.
In addition to enabling this Y to protect their data and members, DeRitter cites TechSoup as a boon for all things tech at the Raritan Bay Area YMCA. "TechSoup's program has really made a significant impact on the IT budget of the YMCA and the YMCA in general," he says. The lowered costs and tech-related support ultimately translates to more resources dedicated to the kids, adults, and vulnerable populations served by the YMCA.
Learn more about the many nonprofits utilizing Symantec products through our partnership with TechSoup:​
Symantec Expands Software Donation Partnership with TechSoup
More From NortonLifeLock
Friday, January 15, 2021 - 11:00am
Thursday, January 14, 2021 - 2:00pm
Thursday, December 10, 2020 - 12:00pm