Indian Tech Start Up Transforms Rural Health Care Through the Power of Technology
Primary tabs
Indian Tech Start Up Transforms Rural Health Care Through the Power of Technology
A Social enterprise delivers health services in India's rural communities driven by disruptive technology and trained frontline health workers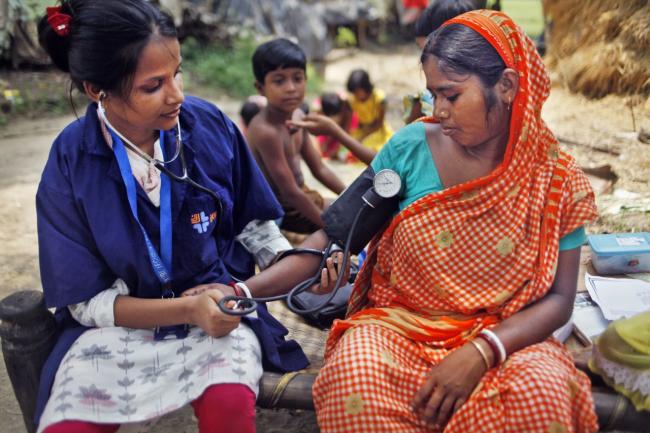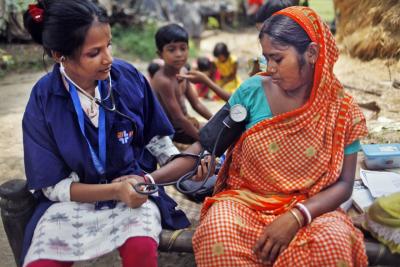 tweet me:
A Social enterprise delivers #AffordableHealth services in #India's rural communities driven by disruptive #technology and trained frontline health workers http://bit.ly/2S9LPIJ @BCtAInitiative @iKureTechSoft
Thursday, December 27, 2018 - 10:00am
KOLKATA, India, December 27, 2018 /3BL Media/ - iKure is a rapidly growing tech start up, providing primary healthcare across rural, semi urban and urban populations in India. The company's business model is composed of a unique combination of health outreach initiatives, skills development and technology-based interventions, promising to empower 5000 health entrepreneurs and deliver affordable health care to 25 million people across 11 Indian States.
Launched in 2008, BCtA aims to accelerate progress towards the Sustainable Development Goals (SDGs) by challenging companies to develop inclusive business models that engage people with less than US$10 per day in purchasing power (in 2015 dollars) as consumers, producers, suppliers and distributors. Over 225 companies, ranging from multinationals to social enterprises, and working in 70 countries, have responded to the BCtA by committing to improve the lives and livelihoods of millions in developing countries through access to markets, financial services, affordable healthcare, water and sanitation, education and other critical services.
Rural health is a global challenge, not only because primary health services are generally not accessible or affordable to rural communities, but also because of the lack of capacity to implement programmes that address rural health care needs in a harmonized and holistic way.
In India, 70 percent of the rural population (or over 840 million people) are served by less than 30 percent of the country's combined medical force. This means there is one doctor per 19,000 people on average. Many families simply have no access to health care or are forced to rely on unreliable treatment plans and unqualified practitioners. Access to health care in rural communities is further complicated by long distances, lack of infrastructure, lack of education and poverty.
iKure addresses these challenges by operating through a hub-and-spoke clinic model, where a core medical team utilizing modern procedures and equipment are stationed at hub clinic. Trained community health workers, who are selected and trained from each village, then visit peripheral clinics (spokes) on a regular basis and provide reliable access to on-site general medicine, maternal and child health care, eye care, telemedicine services, and pathology services to cater to the demand of specific diseases. After six months in the programme, community health workers become self-sustaining entrepreneurs, who generate income through selling and promoting products from the iKure supply chain.
Technology forms a key part of iKure's impact, as it enables patient information to be captured by community health workers on point-of-care devices offline. The information is uploaded to cloud storage when health workers return to web-connected areas. This process facilitates early diagnosis and tertiary linkages otherwise non-existent in India's remote settings. Equipped with this information, iKure analyzes the root causes of ailments and addresses them holistically through combination of health and hygiene, nutrition and other aspects. By doing this, iKure creates an ecosystem of spokes clinics for diagnosis and minor treatments, hospitals for secondary and tertiary care and research organisations for clinical and technical knowhow of various ailments.
 "Our holistic approach towards health is supported by community-based interventions that are able to adapt to the different language, culture, diet, political power, literacy rates, ethnicity, employment and health services that exist in each area. This way, we are able to meet local needs as defined by the local community," said ikure CEO Sujay Santra.
"iKure's model offers a three-layered approach that impacts the health and wellbeing of the individual patient, empowers community members as entrepreneurs and connects stakeholders at a global level to deliver future outcomes in rural health," said Paula Pelaez, Head of Business Call to Action.
For further information: 
BCtA: aimee.brown@undp.org   
iKure: sujay@ikure.in
BCtA membership does not constitute a partnership with its funding and programme partners, UNDP or any UN agency.
About Business Call to Action (BCtA): Launched at the United Nations in 2008, BCtA aims to accelerate progress towards the Sustainable Development Goals (SDGs) by challenging companies to develop inclusive business models that offer the potential for both commercial success and development impact. BCtA is supported by  the Dutch Ministry of Foreign Affairs, Swedish International Development Cooperation Agency (Sida), Swiss Agency for Development and Cooperation (SDC), UK Department for International Development (DFID), and hosted by the United Nations Development Programme (UNDP). For more information, please visit www.businesscalltoaction.org. 
About iKure: iKure is an award-winning, tech-savvy, rapidly-growing, revenue-positive social enterprise that meets the primary health care and prevention needs through a unique combination of health outreach initiative, skills development, and technology intervention. The venture is poised to rapidly scale beyond its curative model, looking to the future of disease prevention and wellness for 840 million people in rural India. iKure's healthcare model has acquired extensive support and recognitions from across the world for being innovative, technologically advanced and sustainable.
More From Business Call to Action (BCtA)
Friday, April 26, 2019 - 11:40am
Thursday, April 25, 2019 - 9:05am
Thursday, April 18, 2019 - 12:05pm