How Philadelphia Is Protecting 'Children's Right to Read'
How Philadelphia Is Protecting 'Children's Right to Read'
More than 130 public and private organizations, including Wells Fargo, have come together to support Read by 4th, a citywide effort in Philadelphia to address on-track literacy.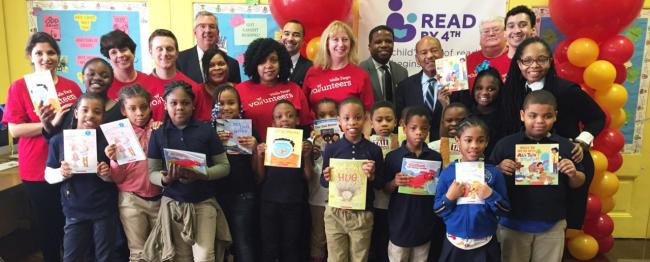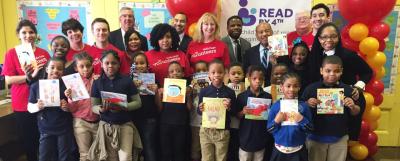 tweet me:
How #Philadelphia is protecting 'children's right to read' with @Readby4th and @WellsFargo http://bit.ly/2CLfPEX
Friday, March 29, 2019 - 1:00pm
Karisa Barlow has always loved to read. So when she learned about an opportunity to advocate for literacy in Philadelphia and help kids discover their passion for reading, she jumped at the opportunity.
"I had that support to develop a love of reading early on, and a lot of what I'm doing is carrying on that example and sharing it with other people," Barlow said. "I also worked as a special educator. This is a way to keep connecting with kids in my community and support education."

Barlow is one of 150 reading captains for Read by 4th, a citywide effort led by the Free Library of Philadelphia to increase the number of students reading at grade level by the time they start the fourth grade. More than 130 public and private organizations are involved in the campaign, and Wells Fargo is the leading corporate sponsor, donating more than $500,000.

"The Read by 4th campaign is an inspiring example of what's possible when an entire city unites to address one of the most important issues that will shape the future of the region," said Aldustus Jordan, Northeast Community Relations manager for Wells Fargo in Philadelphia. "Wells Fargo's strategic philanthropic support and thought leadership has played a significant role in helping boost reading levels in the early grades and leveling the playing field for Philadelphia's most vulnerable children."

About two-thirds of Philadelphia students cannot read at grade level by fourth grade, according to the Free Library of Philadelphia. That's a big concern for local leaders, since students' on-track literacy can determine their future academic and professional success. In fact, the inability to read at grade level by fourth grade correlates with higher dropout rates, behavioral issues, and incarceration later in life, according to the organization.

To help increase literacy, Read by 4th promotes kindergarten readiness, quality reading instruction, increased access to summer reading, and improved school attendance. To support the campaign, the Free Library provides online resources, a back-to-school camp, an after-school program, a science education program in the summer, a summer reading program, and cultural programs, among other programs and resources.

'We need to prepare them for the future'

In addition to providing funding for Read by 4th, Wells Fargo team members have also served as volunteers and members of the campaign leadership council.

"Wells Fargo has been a pillar of the Read by 4th campaign from the very beginning," said Jenny Bogoni, executive director of the campaign. "Wells Fargo supports the campaign not only through its financial contribution but also through the dedication of many volunteers. We are grateful for Wells Fargo's unwavering commitment to protect our children's right to read."

Nina Jenkins, a loan underwriter for Wells Fargo's Wealth and Investment Management Group in Philadelphia, has enjoyed her time volunteering. Last year, she and several colleagues spent an hour a week during their lunch break for several months to work with elementary school students on phonics.

Jenkins said she has always been involved in some of the many educational or community outreach programs the bank has been a part of, and she has a passion for reading and education. "When I read about the gaps in learning when children aren't reading on level, there are so many astonishing statistics," Jenkins said. "When you think about math and science, if you're not reading on level, you won't be able to understand those subjects. It has a snowball effect."

During her time volunteering, she said she saw the students gain confidence as they moved up each level. She added that she is happy Wells Fargo is supporting the effort. "Our children are our next workforce, and we need to prepare them for the future."

Overall, Read by 4th is already seeing success. From July 2015 to November 2018, more than 1.15 million books were distributed across the city through the campaign, and the number of third graders reading at grade level has increased from 37.4 percent to 41.7 percent.

Supporting kids and families

Barlow first got involved with the campaign through her employer, one of the organizations supporting the effort. When she learned about the opportunity to be a reading captain, she liked the idea of the boots on the ground approach. "It sounded like a great way to put my own time in it and be a good neighbor to people around me," she said.

As a reading captain, she provides books to families in the area, offers tips for increasing literacy, works to get book nooks added in the community, shares key campaign messages with people she has personal and professional relationships with, helps people get their children registered for pre-kindergarten and kindergarten, and tutors students, among other things.

Since she has been involved, she has seen increased access to books in public places, like sidewalk libraries and book nooks in barbershops and laundromats. She has also noticed more local schools rewarding students for being on time. "Being a reading captain has also introduced me to a really incredible group of people," Barlow said. "This initiative is bringing people together with shared passions as we're trying to support kids and families. It's important for the kids to have a thriving city working for them."
More From Wells Fargo & Company
Tuesday, November 19, 2019 - 4:45pm
Monday, November 18, 2019 - 10:05am
Wednesday, November 13, 2019 - 10:05am