How to Boost Employee Engagement With the VolunteerMatch Network [Webinar]
Primary tabs
How to Boost Employee Engagement With the VolunteerMatch Network [Webinar]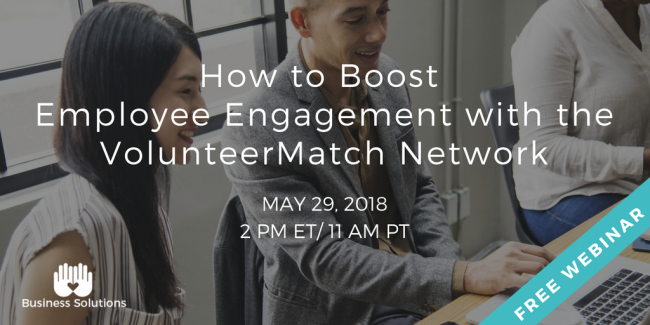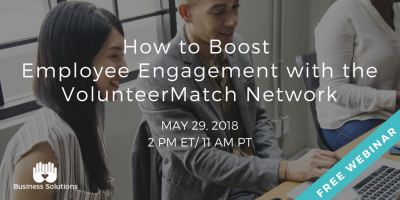 tweet me:
On May 29, 2018, @VM_Solutions will introduce the VolunteerMatch Network and walk through how it can serve the interests of both your company and its employees. Learn more: http://bit.ly/2rJ9vrp
Wednesday, May 16, 2018 - 8:40am
Many companies invest a lot of time researching nonprofits and curating one-off volunteer opportunities for their employees. Yet research shows that one-third of employees won't actually give through their workplace because they're not able to choose the causes that matter to them.
What if there were an easy was to connect employees with ways to volunteer that are meaningful to them?
There is. The VolunteerMatch Network is a consolidation of vetted, real-time nonprofit volunteer needs, all in one place. It can be easily integrated into your existing corporate giving platform in a way that's tailored to your company's goals and preferences.
Join us for this free webinar on Tuesday, May 29, 2018 at 2pm ET/11am PT to get a walkthrough of:
Why it's important to give your employees choice in your volunteer program
How to balance employee choice with company-sponsored cause areas
How the VolunteerMatch Network connects employees with causes that are meaningful to them
How VolunteerMatch's custom integrations can serve the interests of both your company and its individual employees, while saving you time and money.
More From VolunteerMatch
Tuesday, April 23, 2019 - 3:00pm
Wednesday, February 27, 2019 - 12:00pm
Thursday, February 14, 2019 - 2:00pm