How Barclays Uses Inclusive Financial Systems to Promote Economic and Social Progress
Primary tabs
How Barclays Uses Inclusive Financial Systems to Promote Economic and Social Progress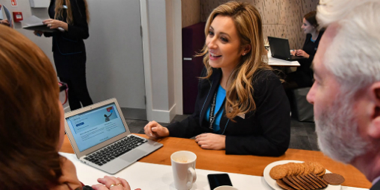 tweet me:
Read @Barclays #ESG report to see how they use inclusive financial systems to promote economic and social progress http://bit.ly/2EX5WTX @Barclays_cship #socialimpact #economicempowerment
Tuesday, March 13, 2018 - 8:20am
In 2017 Barclays helped empower 205,180 people through a range of financial and digital skills initiatives.
The challenge: Inclusive financial systems are key to achieving economic and societal progress.
Our ambition: We are keen to play a leading role in increasing access to financial services. We are doing this in two ways: through the creation of targeted and accessible products and services, and by enhancing financial and digital skills.
Read about our access to financial and digital empowerment progress in our ESG Report.
More From Barclays
Wednesday, October 31, 2018 - 10:05am
Tuesday, October 23, 2018 - 8:25am
Thursday, October 18, 2018 - 8:25am