Give Back to Your Community: Volunteer Pro Bono
Give Back to Your Community: Volunteer Pro Bono
WEBINAR // Use your skills to make a difference through Taproot Foundation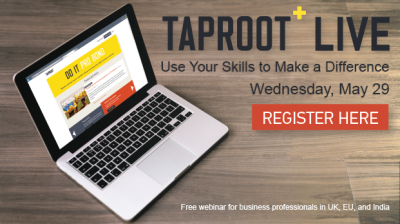 tweet me:
Make a difference #volunteering your professional skills to NGOs around the globe. Get started doing #probono at @taprootfound's free 5/29 webinar http://bit.ly/2Ee3dHm
Friday, May 24, 2019 - 9:30am
Wednesday, May 29 at 6:30 AM EDT // 11:30 AM BST // 4:00 PM IST
Make a difference by donating your time and professional skills to charities in need of your expertise. Get started by joining Taproot Foundation's free webinar on Tuesday, May 29 for future marketing, tech, HR, finance, and strategy volunteers.
During this webinar, experienced Taproot staff will cover how to:
Browse available projects to find one that matches your interests and skills
Put together a strong volunteer application for that project
And share strategies for how to best manage pro bono projects once you're matched with a NGO
Taproot's pro bono programs are now available across the United States, United Kingdom, European Union, and India, so if you're a business professional in those regions who is interested in donating your HR, tech, marketing, strategy, or finance expertise to charities—this webinar is for you!
Wednesday, May 29
6:30 AM EDT // 11:30 AM BST // 4:00 PM IST
This webinar and use of Taproot+ is completely free of cost. All registrants will be sent a recording of the event.
More From Taproot Foundation
Thursday, October 17, 2019 - 11:05am
Wednesday, October 16, 2019 - 12:40pm
Monday, October 14, 2019 - 2:05pm