The Future Can't Wait: Highlights from Booz Allen's 2020 ESG Report
The Future Can't Wait: Highlights from Booz Allen's 2020 ESG Report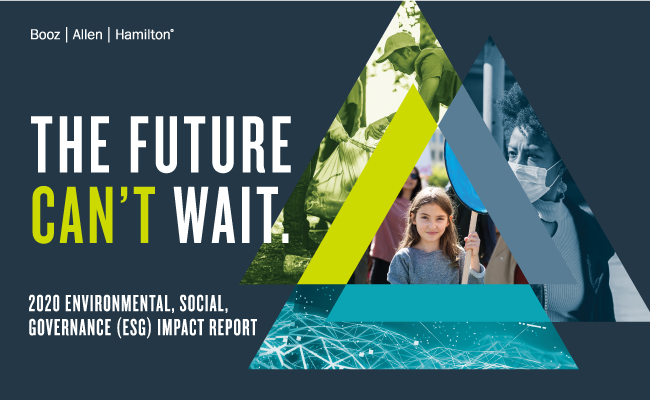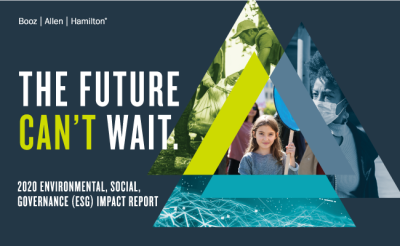 Monday, December 14, 2020 - 9:00am
Booz Allen Hamilton has launched its annual Environmental, Social, Governance (ESG) Impact Report, now aligned to the GRI Standards, the world's most widely used standards for corporate sustainability reporting. The 2020 ESG Report, "The Future Can't Wait," shares Booz Allen's vision and impact in six key areas: Ethics and Integrity, Mission and Innovation, Employee Experience, Community Engagement, Global Resilience, and Information Security.
"We envision a future that is human-centric, mission-focused, and powered by technology," said Booz Allen Executive Vice President and Chief Legal Officer Nancy Laben. "This report shares how Booz Allen—driven by our purpose and values—is leveraging our consulting expertise and relentless innovation to deliver solutions that help create a more secure, resilient world."
Read highlights below and access the full report here.
1. Ethics and Integrity
In 2020, Booz Allen was recognized by Ethisphere as one of the World's Most Ethical Companies. The firm's culture empowers every employee to act as an ethical leader—guided by the firm's ethics, compliance, and risk management functions, reinforced by regular and tailored training, and supported by a network of resources including more than 100 Ethics Advisors as well as AI-powered tools. 
Booz Allen is also a vocal leader on the ethics of new technologies, especially as part of the emerging dialogue around ethics in Artificial Intelligence (AI), an area where the firm is putting its principles into practice as AI moves from the lab into the enterprise. 
"As we look ahead, we're more confident than ever in our ability to raise the bar for ethical standards in our industry and beyond," said Laben. 
2. Mission and Innovation
Booz Allen cultivates both mission intelligence and an innovative mindset in its business, incubating and scaling technological capabilities and infusing them with a deep understanding of its industry and clients' objectives. From its Innovation Hubs around the country, to innovation networks for end-to-end tech scouting, to its support for the Booz Allen Foundation—which awarded nearly $1 million in grants this year to develop new COVID-19 solutions—Booz Allen invests in innovation. The firm also builds its capabilities through partnerships, and the Booz Allen Partner Network brings together organizations from small businesses to Fortune 500 companies to help address any challenges that clients may face.  
Within the firm, innovative development programs support employees seeking to enter or advance a technical career track through activities like a Tech Excellence skills training, an intensive Data Science 5K challenge, cyber skills building Capture the Flag competitions, and the MilTech Workforce initiative, which equips transitioning service members, veterans and military spouses with deeper technical expertise and opportunities within the firm. 
3. Employee Experience
Booz Allen's more than 27,000 employees embrace their clients' toughest challenges and realize their biggest opportunities by making client missions their own and consistently delivering with character, expertise, and passion.
When COVID-19 forced institutions and individuals around the world to rethink the way we live and work, Booz Allen invested in the health and financial security of its people, their loved ones, and their communities through a $100 million pandemic resilience program. For employees, this included major enhancements to the firm's dependent-care program, flexible work, training, and other support to address employee challenges at home.
The firm fosters an inclusive environment that embraces unique and diverse perspectives and expects and empowers employees to do the same. "Unstoppable Together," an employee-led global Diversity, Equity, and Inclusion program designed to humanize the challenges faced by today's workforce, engaged more than 3,000 employees during the last fiscal year, with more than 94 percent of participants saying the experience increased their sense of belonging at Booz Allen. The firm's Race and Social Equity Agenda provided an expanded framework for Booz Allen's commitment to listen, learn, and act with purpose toward a better future. The firm's employee-led Business Resource Groups cultivated meaningful networks and development opportunities, celebrated inclusive action, and helped attract and retain diverse talent.
By offering fulfilling career experiences with limitless growth potential and meaningful recognition, along with leading benefits and trailblazing mental health and wellness initiatives, Booz Allen enables its people to tackle the challenges of today and lean into the opportunities of tomorrow. 
4. Community Engagement
Booz Allen's community engagement efforts bring the firm's purpose to life, empowering employees to change their worlds with the firm's support and through deploying the firm's capabilities to make a difference where they live and work. Through a multifaceted approach to community engagement, including both charitable contributions as well as the delivery of time and talent in the form of volunteerism or pro bono service, Booz Allen has supported programs related to veterans and military families, invested in STEM professionals and social entrepreneurs, and focused on emotional health and other health causes. 
In addition to making significant contributions to support frontline workers and the military and veteran communities, Booz Allen has also invested in supporting virtual learning, STEM enrichment and technology accessibility during the COVID-19 pandemic. More recently, aligned to the firm's Race and Social Equity Agenda, Booz Allen launched an employee giving campaign for charitable organizations that support the Black community and historically marginalized populations, raising more than half a million dollars including matching contributions from the firm.
5. Global Resilience 
Booz Allen promotes individual, systemic, and societal resilience by helping organizations anticipate, address, and adapt to change or to threats against global stability and security. The firm leverages an integrated understanding of its clients' most complex challenges, often with far-reaching consequences for resilience and security, to deliver solutions that are strong and malleable enough to withstand the unknown.
At the onset of COVID-19, Booz Allen moved swiftly to nearly complete virtual delivery without missing a beat. The firm has stayed focused on keeping employees safe, their clients' missions secured, the enterprise strong, and emergency responses nimble, including opening a new 24/7 Global Security Operations Center. 
6. Information Security
Booz Allen safeguards information and technology assets to protect its employees, enterprise, and clients. The firm's trusted workforce completes mandatory training on handling and protection of information, and the firm stays ahead of industry standards and emerging trends through programs like its Cyber Fusion Center, which identifies and responds to cyber threats and helps position the firm as a thought leader in the growing cybersecurity market. Booz Allen is the only company in the world to hold all three of the U.S. Government's elite cyber accreditations. 
"As we invest in shaping the future, we are focused on creating an impact where it counts and where we're poised to make a difference," said Laben. "This report is a window into the contributions Booz Allen and our people make to our company, our clients, our communities, and the world." 
Learn more about ESG at Booz Allen and read The Future Can't Wait.