FOX Sports and Good Sports Team Up to Bring Sports Equipment to Chicago Youth, with 21st Century Fox Matching Every Donation Dollar-for-Dollar
FOX Sports and Good Sports Team Up to Bring Sports Equipment to Chicago Youth, with 21st Century Fox Matching Every Donation Dollar-for-Dollar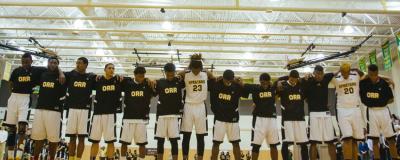 tweet me:
To mark the launch of #ShotintheDark documentary, @FOXSports and @goodsportsinc team up to bring sports equipment to Chicago youth, with @21CF matching every donation dollar-for-dollar http://bit.ly/2GMb7uE
Monday, April 9, 2018 - 7:45pm
To mark the launch of the new documentary Shot in the Dark from FOX Sports Films, FOX Sports has partnered with nonprofit Good Sports to provide much-needed athletic opportunities to Chicago youth. The initiative allows supporters to personally select sports equipment to be donated through Good Sports to various youth programs in the city, and all donations made directly through the "Shot in the Dark" page will be matched by FOX Sports parent company, 21st Century Fox, dollar-for-dollar up to $25,000.
Shot in the Dark, executive produced by Dwyane Wade and Chance the Rapper for the FOX Sports' MAGNIFY documentary series, follows Chicago's Orr Academy high school boys' basketball team and their inspirational coach as they reach for greatness while facing systemic inequities that threaten to claim their future. Through on and off-court challenges – from championship and college ambitions to violence and incarceration – they assess the daily voices and influences of teammates, friends and family on their next steps as young men. 
Additionally, FOX Sports, Good Sports, and Picture Motion have partnered to screen Shot in the Dark in nearly 60 schools across the country. At screening events in LA and Detroit, Good Sports presented local schools with $20,000 each in donated sports equipment. Educators and community leaders have used the screenings to reflect on the role that school, coaches, and sports play in young athletes' lives. The tour has also provided an opportunity for students to discuss how gun violence has affected their own communities—at a time when student experiences with gun violence is at the forefront of national conversation, expanding the reach of this film's audience has never been more timely.
"In connection to these powerful sports and community narratives, we're committed to meaningfully working, within our FOX Sports Supports organization and alongside others, to help neighborhoods and schools capitalize on the awareness that 'Magnify' brings to the stories," said Charlie Dixon, EVP Content at FOX Sports.
FOX Sports Supports, a philanthropic initiative of FOX Sports dedicated to serving the nonprofit community, has contributed millions of dollars to partner organizations through the production of public service announcements, broadcast and cable air time, special event activations, verbal and special messages during FOX Sports programming and in-kind support, including monetary and gift donations
Following its original February 24 airdate, Shot in the Dark is available via the FOX NOW app and video-on-demand. Re-airs are also scheduled on FS1 and various FOX Regional sports networks.
More From 21st Century Fox
Monday, February 25, 2019 - 7:00am
Thursday, February 21, 2019 - 7:00am
Friday, February 1, 2019 - 3:00pm