Enabling a More Diverse Entrepreneurship Ecosystem: Booz Allen's Hillarie Flood on Why We Need More Black Women in Venture Capital
Enabling a More Diverse Entrepreneurship Ecosystem: Booz Allen's Hillarie Flood on Why We Need More Black Women in Venture Capital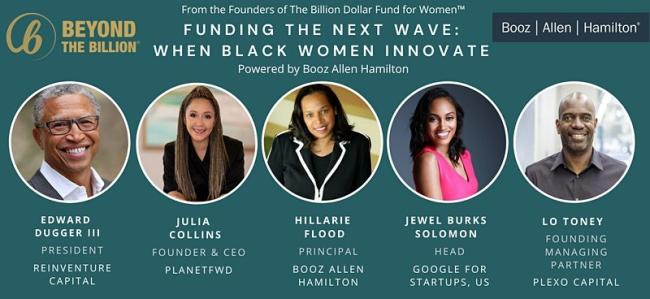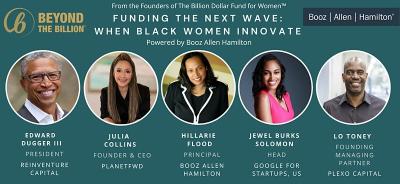 tweet me:
Diversity pays off—so why is the startup/VC world still so white and male? Booz Allen's Hillarie Flood joins @beyondbillion for a panel discussion https://bit.ly/2XPAgLD
Tuesday, August 11, 2020 - 8:00am
"When I say the word innovator, who comes to mind?" Hillarie Flood, a principal with Booz Allen's Strategic Innovation Group, asked as she kicked off an expert panel discussion. 
Odds are it's not Madam C.J. Walker, the first self-made millionaire in the United States, BET co-founder Sheila Johnson, or even Oprah Winfrey, she said. 
Despite these and many other examples of entrepreneurship success:
More than 75% rounds raised go to all-white founding teams

Women-founded teams receive less than 3% of all venture funding

Black people are underrepresented among startup leaders by 82%

More than 80% of venture firms do not have a single Black investor

Just 1% of venture-funded startups founders are Black
Black women in particular face formidable challenges, despite the many strengths and perspectives they can bring to a company, Flood said. "We're nimble, multifaceted, tenacious, and we don't stop until we've gotten it right. Unfortunately, those qualities don't seem to be enough in the venture capital world."
Challenging—and changing—the status quo
How can we create a more diverse world of founders and funders? Flood explored this question and others in a virtual panel sponsored by Booz Allen. The event was hosted by Beyond the Billion, which has mobilized a global consortium of over 80 venture funds committed to investing $1 billion in women-founded companies. 
Flood moderated a panel discussion featuring: 
Jewel Burks Solomon, head of Google for Startups in the United States

Julia Collins, founder and CEO of Planet FWD

Edward Dugger, III, president of Reinventure Capital

Lo Toney, founding managing partner with Plexo Capital
Recognizing Black women's power and potential 
Across the business world, diversity pays off. "At Booz Allen, we've seen the technology and innovation space evolve as we build a more inclusive company," Flood said. Specific to start-ups and venture capital, diverse teams of founders and executives generate stronger results, like higher median realized on acquisitions and IPOs, versus all-white founding and executive teams.
Yet, due to such vast underrepresentation, Black women founders and funders often struggle to recognize their own value, panelists said. 
Collins, for example, is the only Black woman to date to co-found a "unicorn" company, a privately held startup valued at a billion dollars or more. Still, she recalled an "incredible bout of imposters' syndrome" in her earlier days in Silicon Valley.
In such situations, Flood noted the power of "mentors who've seen things in us that we haven't seen." It's never too early to start building your network, she advised.
For people in a position to invest or hire, look beyond the resume, panelists advised. A track record of overcoming challenges and obstacles can be just as indicative of future success as the presence of certain employers, job titles, or degrees in a candidate's background. This can be particularly true for women of color, whose career trajectories may be more circuitous.
Increasing diversity at all levels of the VC ecosystem
Panelists reported some positive changes in the VC world: managing partners seeking more diverse deals and portfolios, venture funds expanding their recruiting and hiring pipelines, entrepreneurs interested in a more diverse set of investors.  
Still, more representation is needed at the very top among the limited partners (LPs) who allocate capital to the venture capital ecosystem. Getting capital into the hands of Black LPs will provide a different lens on startup opportunities. 
So, how can we increase the number of Black LPs? One panelist suggested actively reaching out to people who may never have invested in technology companies and funds before. Tap into their networks and knowledge as well as their capital, others advised, and contribute to the endowments of historically Black colleges and universities so they can invest in Black funders. 
As a values-driven company, Booz Allen has been long committed to advancing diversity, equity and inclusion – though recent tragic events compelled a deeper commitment to racial equity both inside the firm and beyond. The firm's commitment to advance race and social equity includes an employee giving campaign benefiting organizations like the Thurgood Marshall College Fund and Black Girls CODE, a series of employee learning courses and opportunities, and an independent review of how the firm's business practices impact people of color - steps taken to help create a more equitable world for all. 
"Action across all of these areas, not just one, is how we'll create long-term change," Flood said.
Learn more about Beyond the Billion and innovation at Booz Allen.  
More From Booz Allen Hamilton
Wednesday, November 25, 2020 - 8:00am
Tuesday, November 24, 2020 - 8:00am
Monday, November 23, 2020 - 8:00am