Employee Giving: An Engagement Opportunity
Employee Giving: An Engagement Opportunity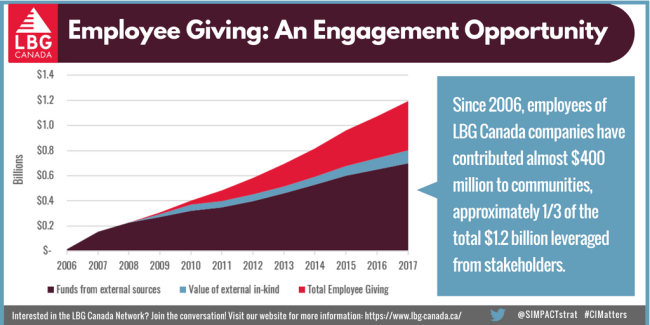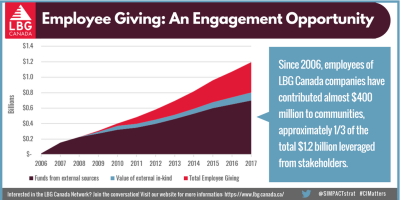 tweet me:
Did you know that your #employeegiving program is an #employeeengagement opportunity? #LBGCanada #CIMatters http://bit.ly/2yRI7ya
Thursday, June 28, 2018 - 3:25pm
Since 2006, employees of LBG Canada companies have contributed almost $400 million to communities, approximately 1/3 of the total $1.2 billion leveraged from stakeholders.
Interested in the LBG Canada network? Join the conversation!
-30-
About LBG Canada
LBG Canada is a network of corporate community investment professionals from many of Canada's leading companies, who work together to apply, develop and enhance the use of the LBG Model and measurement framework in Canada. Participation in LBG Canada encourages companies to focus on strategy, measurement and reporting to demonstrate the business value achieved through investment in community. LBG Canada is facilitated by SiMPACT Strategy Group. For more information, please visit: https://www.lbg-canada.ca
More From SiMPACT Strategy Group
Friday, November 15, 2019 - 6:50pm
Friday, November 15, 2019 - 6:35pm
Friday, November 15, 2019 - 5:20pm