Drive Social Change With What You Do Best
Drive Social Change With What You Do Best
Taproot Foundation webinar: Use your skills to make an impact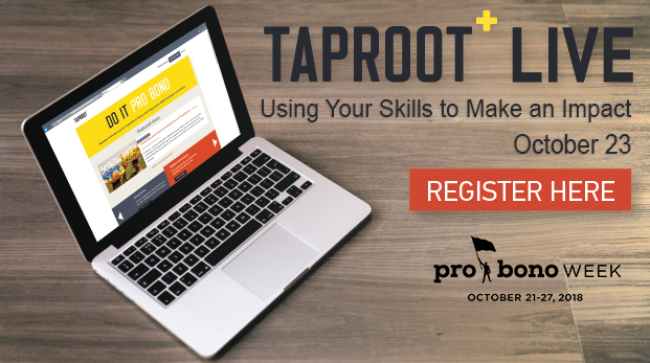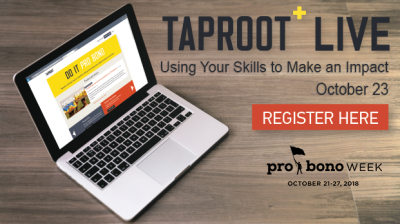 tweet me:
#Volunteer more than just your time, give back using your professional talents. Learn how to get started doing #probono at @taprootfound free 10/23 webinar https://goo.gl/z9KG7A
Wednesday, October 10, 2018 - 12:30pm
Tuesday, October 23rd at 10 AM PT // 12 PM CT // 1 PM ET 
Drive social change with what you do best and donate your time and professional skills to nonprofits in need of your expertise. On the free online platform, Taproot+, thousands of nonprofits and skilled volunteers are connecting each day for marketing, IT, HR, business strategy, finance projects and more.  
Take this opportunity to join the Taproot+ community during a free Pro Bono Week webinar on October 23 where our staff will guide volunteers through:
Browsing available projects to find a nonprofit that you're passionate about and whose needs match your unique skills
Putting together a strong volunteer application for that project
And talking strategies for how to best manage pro bono projects once you're matched with a nonprofit 
If you're a business professional interested in donating your HR, IT, marketing, strategy, or finance expertise to a nonprofit—this webinar is for you, so REGISTER NOW!
Can't attend live? Go ahead and sign up anyway—we'll be sending out a recording to all registrants. 
Tuesday, October 23rd at 10 AM PT // 12 PM CT // 1 PM ET 
More From Taproot Foundation
Thursday, December 5, 2019 - 10:15am
Thursday, November 21, 2019 - 12:30pm
Thursday, October 31, 2019 - 9:15am