Do More With Less: Tap Into Pro Bono Support
Do More With Less: Tap Into Pro Bono Support
Tackle your organization's biggest challenges with help from Taproot Foundation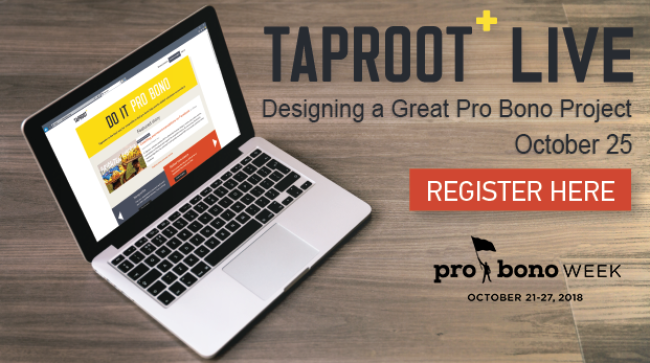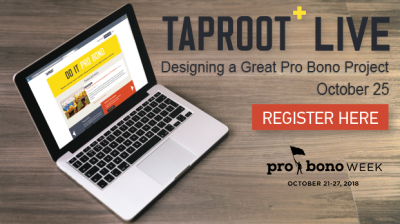 tweet me:
Discover what's possible for your #nonprofit with pro bono support from tech, strategy, & finance experts at @taprootfound free 10/25 webinar https://goo.gl/ZrsffP
Tuesday, October 16, 2018 - 12:45pm
Don't put off your nonprofit's next big project because of a tight budget! With support from passionate volunteers skilled in marketing, strategy, finance and more, you can make those plans happen while keeping costs low.
Join Taproot Foundation's webinar on Thursday, October 25 for all the tools you need to get started on Taproot+, the cost-free online platform that connects nonprofits with skilled volunteers for short-term pro bono projects. During the event, you'll learn how to design and manage a successful pro bono project with advice straight from experienced Taproot staff members.
Achieve more with the help of passionate marketing, strategy, finance, HR, and tech experts. REGISTER NOW to get started.
Access to the webinar and Taproot+ are free, now and always. All registrants will be sent a recording of the event.
Thursday, October 25, 2018, 1 PM EST // 12 PM CST // 10 AM PST​
More From Taproot Foundation
Thursday, December 5, 2019 - 10:15am
Thursday, November 21, 2019 - 12:30pm
Thursday, October 31, 2019 - 9:15am