Corporate Hands | Scotiabank Plants Some 800 Trees at Primary Schools
Corporate Hands | Scotiabank Plants Some 800 Trees at Primary Schools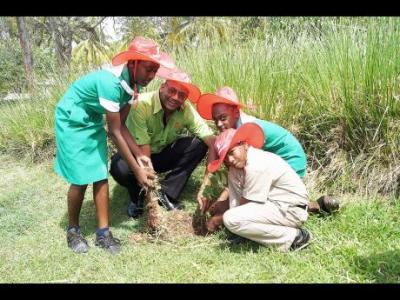 tweet me:
.@ScotiabankViews plants 800 trees at schools http://bit.ly/2weEqfM #environment #CSR
Tuesday, August 1, 2017 - 12:05pm
Kevin Burton, branch manager, Scotiabank Santa Cruz, waters a newly planted tree with the help of a student from Holland Primary...
Click here to continue reading
About Scotiabank
Scotiabank is Canada's international bank and a leading financial services provider in North America, Latin America, the Caribbean and Central America, and Asia-Pacific. We are dedicated to helping our 23 million customers become better off through a broad range of advice, products and services, including personal and commercial banking, wealth management and private banking, corporate and investment banking, and capital markets. With a team of more than 88,000 employees and assets of over $921 billion (as at April 30, 2017), Scotiabank trades on the Toronto (TSX: BNS) and New York Exchanges (NYSE: BNS). For more information, please visit www.scotiabank.com and follow us on Twitter @ScotiabankViews.
More From Scotiabank
Friday, October 11, 2019 - 11:05am
Tuesday, October 8, 2019 - 10:10pm
Monday, October 7, 2019 - 11:10am