Consulting Magazine Names Booz Allen Among Its 2019 "Best Firms to Work For"
Consulting Magazine Names Booz Allen Among Its 2019 "Best Firms to Work For"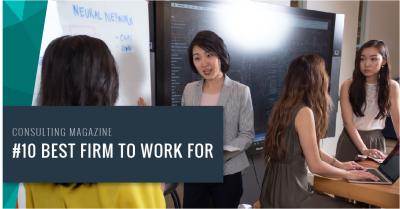 Wednesday, September 11, 2019 - 12:35pm
Exceptional people, engaged clients, a great culture, and more placed Booz Allen #10 on the 2019 "Best Firms to Work For" list of Consulting Magazine, the flagship publication of the consulting profession.
The magazine also recently named Senior Vice President Leslie Raimondo a Global Leader in Consulting and listed Booz Allen among its top 20 in the Large Businesses category.
Recognition for consultants, by consultants
Each year, Consulting Magazine identifies the best firms to work for in the consulting profession. Winners include top firms such as Boston Consulting Group, EY, and KPMG.
Rankings are based on responses to survey questions taken by a firm's own consultants. The survey gauges employee satisfaction with culture, career development, client engagement, compensation and benefits, and firm leadership. Participation is entirely voluntary, and scores are measured against all qualifying firms. 
Booz Allen ranked high in client engagement, career development, culture and leadership.
"We're proud that we continue to be seen as one of the most prestigious consulting firms in the industry and recognized for our contributions and thought leadership in the consulting space," said Senior Vice President Scott Barr.  "This award is an affirmation of our BE3 Promise—be you, be Booz Allen, be empowered—and a humbling recognition of our firm's 100+ years of passionate service."
Acknowledged industry leadership  
The Consulting Magazine recognitions are the latest in many kudos Booz Allen has received in 2019 for consulting and workplace excellence. The firm recently leapt from No. 21 to No. 6 in the annual Vault survey of consulting firms and ranked highly in many individual category areas, including innovation, diversity, and work/life balance.
"When our diverse teams of doers, drivers, and dreamers work together in the relentless pursuit of a common goal, they contribute to something greater than themselves," Barr said. "We look forward to many more years pursuing excellence, serving with purpose, and making an impact for colleagues and clients."
Other recent recognitions include:
Read more about Consulting Magazine's "Best Firms to Work For" and careers at Booz Allen.