CECP's Global Exchange Welcomes Three New Organizations
CECP's Global Exchange Welcomes Three New Organizations
The Conference Board of Canada, Corporate Social Responsibility Association of Turkey, and Donors Forum, Russia join CECP's Global Exchange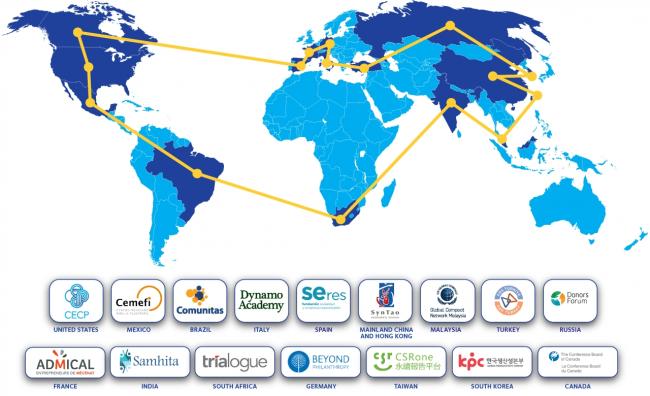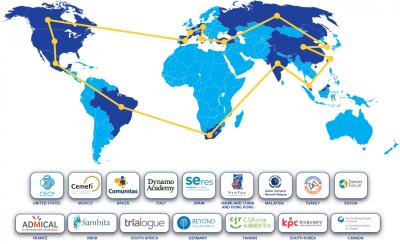 tweet me:
.@CECPTweets warmly welcomes three new organizations to the Global Exchange: @csr_turkey, @ConfBoardofCda and Donors Forum Russia! Learn more about CECP's country-based, mission-driven coalition here: http://cecp.co/home/our-coalition/the-global-exchange/
Friday, August 17, 2018 - 7:15am
CECP's Global Exchange continues to unite country-based, mission-driven corporate engagement organizations to advance business as a force for good around the world with the addition of three new nonprofits to the group, representing Canada, Turkey, and Russia. At 16 organizations strong, the Global Exchange collectively represents 54% of the world's population and 67% of the world's GDP.
 
The Conference Board of Canada, an independent not-for-profit and applied research organization will share the insights and expertise of its Corporate Responsibility & Sustainability Institute which brings together a diverse group of business leaders to explore corporate responsibility and sustainability challenges.
"We're excited and honoured to be the official Canadian Local Authority for CECP's Global Exchange. The Conference Board of Canada's Corporate Responsibility and Sustainability Institute's affiliation with the Global Exchange offers significant opportunities to highlight Canadian successes and learn from the best in the world as we advance next-generation corporate responsibility and sustainability practices," said Bryan Benjamin, VP for Organizational Performance at The Conference Board of Canada. "This partnership will provide benefits for our members and we look forward to contributing to the exchange."
To support their members' day-to-day work and long-term strategies, the Conference Board of Canada produces briefings and engages in research on top-of-mind issues for practitioners and professionals. The Institute offers independent research and though leadership that supports collaboration, knowledge transfer, innovation, monitoring and evaluation of contemporary corporate responsibility and sustainability issues. Some key initiatives the Institute will be working on in the fall include the release of two upcoming research reports: Canada 2030: The Defining Forces Disrupting Business (due for publication later this month) and Role of Business in Indigenous Reconciliation in Canada. The Conference Board of Canada will also be hosting a webinar on The Power of 'B Corps' to Solve Social and Environmental Problems on October 24th, 2 pm ET.
Corporate Social Responsibility Association of Turkey (CSR Turkey), an independent NGO formed in 2005 and based in Istanbul, aims to align with CSR international standards while promoting its application in Turkey. It operates with an approach based on sustainable development, corporate governance, public-civil society, and private sector partnerships. CSR Turkey shares tools, resources, and methodologies in the areas of SDG's, jobs and skills, sustainable cities, Human Rights in Business, and other areas with the other representatives of this global network and the companies that each organization represents. Mr. Serdar Dinler, Chair of CSR Turkey, has been ranked among the top 100 CSR Influence Leaders by Assent Compliance Inc.
"CSR Turkey is thrilled to become part of the Global Exchange as the Turkey partner. We hope to contribute in the exchange of ideas and expertise with the rest of the countries which are part of the Global Exchange but most importantly, our hope is to contribute to be part of a global voice that helps advance companies in becoming a force for good in society," said Hüseyin Yilmaz, Executive Director of CSR Turkey. "The Global Exchange is a great compliment of partnerships to those that CSR Turkey has already established with European, Black Sea and Middle East countries, and NGOs from all over the world. CSR Turkey is already a member of CSR Europe and European Association of Sustainability Professionals."
Amongst the projects that CSR Turkey has led is "Refugees' Voice", a project which aimed to determine the working conditions of Syrian refugee workers in the textile and garment value chain in Turkey. Through a business alliance and a technology platform, CSR Turkey and Swiss-based Equiception collaborated to aggregate and compile data to understand the working conditions of Syrian refugees to find a way of incentivizing their regular employment and to understand what stakeholders say about human rights and workers' rights in the supply chain in social network channels.
Founded in 2002, Donors Forum, Russia (Association of Grantmaking Organizations) is a coalition of commercial and nonprofit organizations working in the sphere of philanthropy in Russia. The mission of Donors' Forum is to enhance the development of the professional philanthropic community working for good of all Russian society.
"Donors Forum is honored to be the Russia representative in the Global Exchange network. I'm confident our organization's experience in CSR, corporate philanthropy, and social investments, as well as our broad network of domestic contacts, will be valuable to the other 15 national partners of the network," said Alexandra Boldyreva, Executive Director of Donors Forum, Russia. "We look forward to partnering with the Global Exchange to build effective cooperation and share best practices and successful cases in the field of social investments."
Donors Forum Russia serves as a platform for peer exchange and professional development of private and corporate donors, working in Russia. The Forum works primarily to promote standards and ethics in the field of philanthropy.
More From CECP: Chief Executives for Corporate Purpose
Monday, July 29, 2019 - 10:15am
Thursday, July 18, 2019 - 2:45pm
Tuesday, June 25, 2019 - 12:05pm
Videos from CECP: Chief Executives for Corporate Purpose