Brand Renovations: A Tree Grows in Manhattan
Brand Renovations: A Tree Grows in Manhattan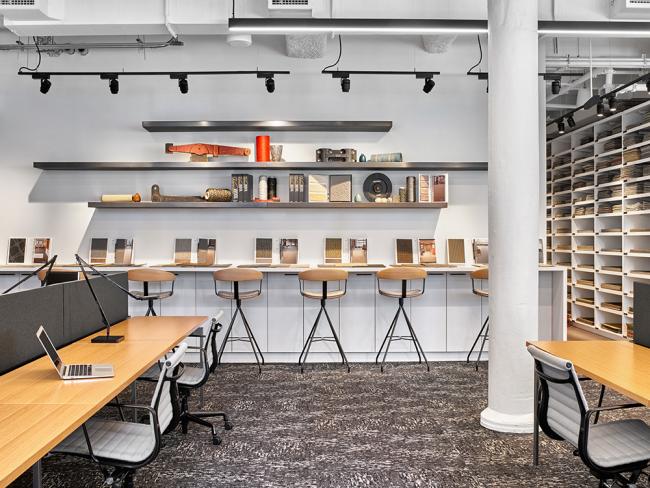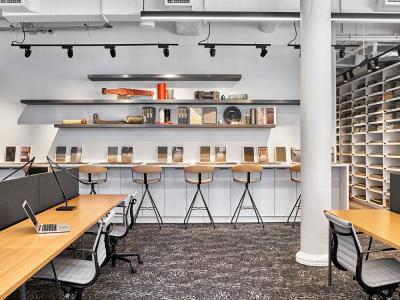 tweet me:
Learn more about the design and wellness inspiration behind @MohawkGroup's flagship showroom in Manhattan http://bit.ly/2AsVOUZ via @interiorssource #sustainability #WELLBuildingStandard #LEEDcertified
Tuesday, July 31, 2018 - 3:40pm
Creating a new image for established brands can feel downright impossible at times, particularly if that brand is Mohawk Group. With almost 150 years at the forefront of the flooring industry, Mohawk enlisted global architecture and design firm Gensler to use the opportunity to push the brand's image beyond common conceptions in the design of their 8,500-square-foot New York City flagship showroom.
USER'S EXPERIENCE
Flipping the script on users' expectations of Mohawk begins the moment one enters the showroom. Against expectations, the flooring used is from their hardwood lines, showing the range of Mohawk's offerings. "The best comment I heard while I was in the showroom came from a designer who asked, 'Whose wood is this on the floor?'" laughed George Bandy Jr., vice president of sustainability and commercial marketing at Mohawk Group. "I said, 'That's Mohawk.'"
THE BRAND'S DIRECTION
Sustainability and wellness have become a cornerstone of the Mohawk brand, so it was obvious that the New York flagship showroom should likewise highlight the importance for designers to take these characteristics into consideration in their own designs. "We're leveraging our sustainability acumen as well," explained Bandy, "and creating a ceiling for people to think about how they eat, how they exercise, how they come to work, how they do that as a part of the culture – not separate from it."
In "leveraging [Mohawk's] commitment to believing in better," as Bandy described it, it became important to the brand that the space meet WELL Platinum and LEED Gold certification. However, that elite status and commitment to the brand's direction tied into both the overall functionality for their employees and the user's experience.
More From Mohawk Industries
Wednesday, August 12, 2020 - 10:00am
Tuesday, August 11, 2020 - 1:40pm
Monday, August 10, 2020 - 10:35am