Booz Allen's Leslie Raimondo Recognized as a 2018 Global Leader in Consulting
Primary tabs
Booz Allen's Leslie Raimondo Recognized as a 2018 Global Leader in Consulting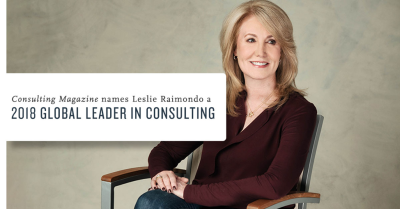 tweet me:
.@BoozAllen's Leslie Raimondo recognized as a 2018 Global Leader in Consulting by @Consulting_Mag http://bit.ly/2RISIjE
Thursday, November 8, 2018 - 10:55am
With companies and public-sector organizations increasingly working across international issues, the consulting business is now a global one that serves clients without traditional borders that once existed. Because of that, ALM's Consulting Magazine created an award in to recognize consulting leaders that have changed the way their firms operate in this environment and have impacted the consulting profession overall to meet global requirements.
This November, the 2018 Global Leaders in Consulting list was released to honor 25 leaders from companies around the world. Booz Allen's Leslie Raimondo, Senior Vice President and Deputy Chief Transformation Officer, is part of this new class of awardees, recognized for "Excellence in Engagement" due to her role transforming the company's infrastructure and client delivery around the world.
Leslie's leadership is focused on empowering Booz Allen's business and talent through the execution of carefully prioritized strategic transformation initiatives. In a world of increasing complexity, her work to culturally and technologically connect and engage talent at 400 locations in 20 countries has allowed Booz Allen to become a bolder, more data-driven organization while remaining focused as an enterprise.
"This recognition is incredibly meaningful because of where we are as a firm—we're no longer just operating globally at Booz Allen, but we're a global company that's incorporating perspectives, best practices, and cultures around the world," said Leslie about the award. "Personally, it's an honor to be one of the drivers behind that, and I am humbled by the daily opportunity to engage with our talent in local environments and shape how international clients experience Booz Allen."
For the next phase of Booz Allen's multi-year transformation, Leslie will be moving from headquarters to the firm's international market in early 2019. As a female executive, she is looking forward to navigating areas such as diversity and inclusion in places that are just now experiencing women leaders.
Angela Messer, Booz Allen's Chief Transformation Officer, recognized Leslie's contributions as a global leader in consulting. "We are extremely proud of Leslie's accomplishments and the recognition of her leadership in transforming client organizations and, more recently, our firm. Booz Allen Hamilton would not have thrived over the past 104 years if we had not constantly transformed and looked to the future. Leslie embodies the agility and flexibility leaders need to steer organizations along their transformation journey."
Leslie will be accepting the award at the celebration event in London on December 6, with the other awardees who are listed here.
Learn more about Booz Allen's global network, here.
More From Booz Allen Hamilton
Thursday, July 11, 2019 - 11:05am
Tuesday, July 9, 2019 - 11:30am
Friday, June 28, 2019 - 2:30pm