Booz Allen Receives Perfect Score on Disability Equality Index for 5th Consecutive Year
Booz Allen Receives Perfect Score on Disability Equality Index for 5th Consecutive Year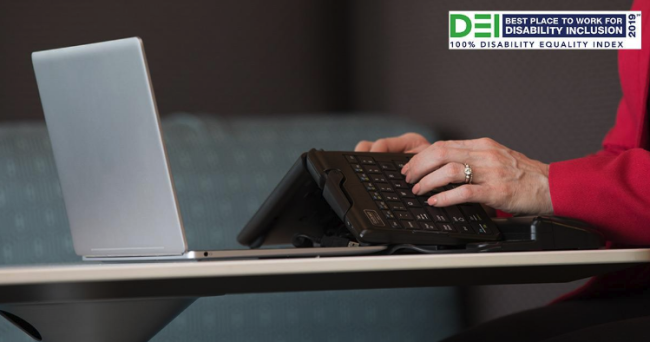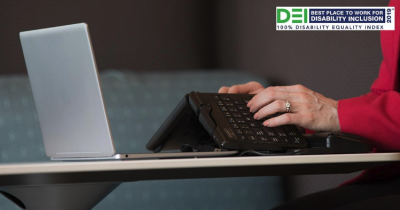 tweet me:
Creating a workplace where everyone can thrive #DEI19 @AAPD @DisibilityIN @BoozAllen http://bit.ly/2YWZBSp
Thursday, July 18, 2019 - 2:55pm
Many of the more than 15 million working-age Americans with a disability can work with minor accommodations. Yet, many struggle to find employment and fewer than one in three (29%) are working, according to data from the Bureau of Labor Statistics.1
Booz Allen aims to change this reality for the better with its inclusive environmental, social, and governance policies. And for the fifth year in a row, the firm has been recognized for its efforts with a perfect score on the Disability Equality Index (DEI®).
A national benchmark for disability support
The DEI is a nationwide benchmarking tool by Disability:IN and the American Association for People with Disabilities (AAPD). The Index measures key performance indicators: organization culture, leadership, accessibility, employment, community engagement, support services, and supplier diversity.
"The DEI is designed to promote and advance disability inclusion practices and policies within corporate America that lead to better employment outcomes for and inclusion of people with disabilities, as employees, customers and suppliers. When businesses include people with disabilities, everybody wins," said Jill Houghton, President and CEO of Disability:IN.
Year-over-year participation in the DEI has continued to increase, with the number of top-scoring companies more than tripling from 43 in 2015 to 156 in 2019, signaling the advancement of disability inclusion across industries.
"Booz Allen strives to attract great people by creating a diverse workplace where everyone can thrive," said Marlene Aquino, Chief Diversity Officer at Booz Allen. "This Index is a critical tool that helps us determine how we can continue to improve our support for our employees with disabilities."
An award-winning reputation for inclusivity 
A top DEI score is just one of Booz Allen's recognitions as an employer and partner of choice for people with disabilities. The firm has been listed among CAREERS & the disABLED's Top 50 Employers, and frequently subcontracts work to veteran-owned and service-disabled, veteran-owned small businesses, exceeding government and National Veteran Small Business Coalition requirements. 
In 2019, the firm received its seventh Champion of Veteran Enterprise Award and the Nunn-Perry Award for its partnership with Darkblade Systems Corporation, a Service-Disabled Veteran-Owned Small Business which provides operational and cyber support for the Department of Defense and intelligence communities. 
Read more about the 2019 DEI rankings and disability initiatives at Booz Allen.  
1 www.marketwatch.com/story/companies-that-hired-this-underemployed-group-had-revenues-that-were-nearly-30-higher-2018-10-29-8883355
More From Booz Allen Hamilton
Tuesday, January 19, 2021 - 8:00am
Friday, January 8, 2021 - 8:00am
Wednesday, January 6, 2021 - 8:00am