Booz Allen Employees and Families Help School Beautification Project on MLK Day
Booz Allen Employees and Families Help School Beautification Project on MLK Day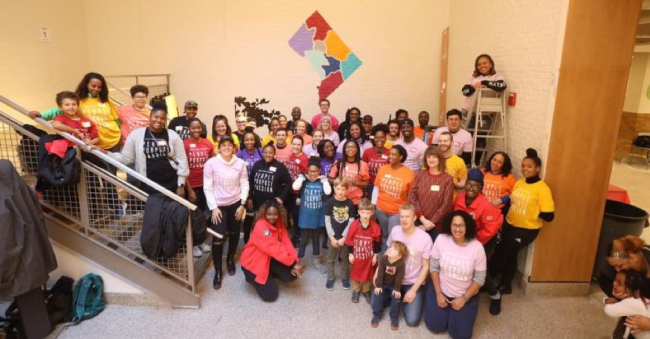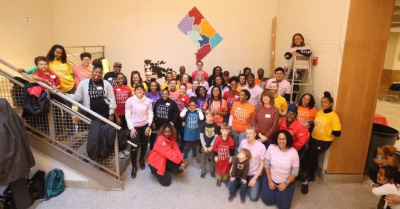 tweet me:
Coming together in honor of MLK—here's how @BoozAllen employees gave back on their day off http://bit.ly/31cV28u
Friday, January 31, 2020 - 7:00am
"Life's most persistent and urgent question is, what are you doing for others?" – Dr. Martin Luther King Jr.
On Martin Luther King Day, Booz Allen volunteers celebrated the day of service by going back to school.
Led by Booz Allen's African American Network, over 70 Booz Allen employees and family members contributed their time and painting skills to Stuart Hobson Middle School in Washington D.C.'s Capitol Hill neighborhood. The mission: Create an even brighter, cheerier environment for students and teachers to return to after the three-day weekend, and enjoy throughout the year.
For the event, the African American Network teamed up with City Year DC, a national service program committed to uniting young adults from diverse backgrounds for a demanding year of full-time community service. Each year, City Year AmeriCorps members and volunteers engage in service projects nationwide, from painting schools to beautifying neighborhoods and parks.
Engaging employees while building community
"'Everybody can be great, because anybody can serve,' We take Dr. Martin Luther King Jr.'s words to heart at Booz Allen," said Ronald Berry, who is a volunteer with and member of the African American Network and a principal in the firm's health practice. "We strive to make Booz Allen a place full of opportunity, where you can bring your whole self to work. It was a privilege to help Stuart Hobson Middle School become an even more welcoming environment for its students, while reaffirming our commitment to diversity and inclusion."
Service is a way of life at Booz Allen. In another recent volunteer project, employees connected with the Girl Scouts to help 55 girls deepen their STEM knowledge and earn cyber badges.
Learn more about how Booz Allen gives back.
More From Booz Allen Hamilton
Friday, May 29, 2020 - 8:00am
Thursday, May 28, 2020 - 12:20pm
Friday, May 22, 2020 - 8:00am