Boost Employee Giving and Scale Your Company's Community Impact With This Modern Approach to Workplace Giving
Boost Employee Giving and Scale Your Company's Community Impact With This Modern Approach to Workplace Giving
Register Now for This September 13th Webinar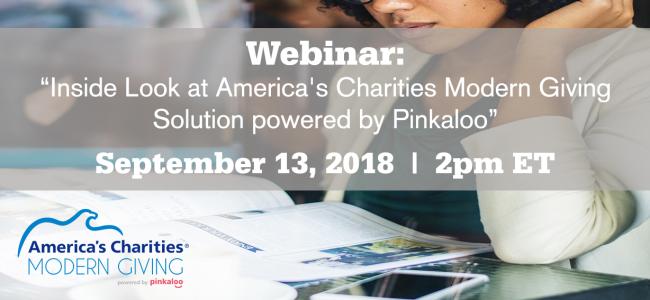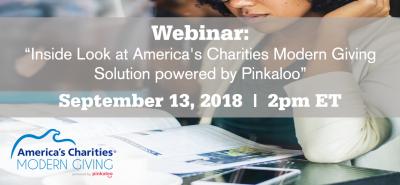 tweet me:
.@AmerCharities @Pinkalootech: Register now! Join @jimstarr135 and @gideontaub Sept 13th at 2pm for a Webinar to Boost #Employee Giving and Scale Your Company's Community Impact with This Modern Approach to #WorkplaceGiving" https://impact.ac/2M8K2Ey
Thursday, August 9, 2018 - 12:05pm
One of the top five detractors from an employee donor's giving experience is the limited ability to donate how and when they want. And among the biggest obstacles to giving is affordability, with about 1 in 8 Americans surveyed in Thrivent Financial's Money Mindset Report saying it's because they "can't give enough to make a difference." 
What if your company could remove these barriers to giving and boost workplace giving participation, while simultaneously maximizing your company's impact in the community?
The all new America's Charities Modern Giving solution, powered by Pinkaloo, is the affordable, safe, and configurable way to power your company's employee giving program, which matches how modern donors want to manage their giving for the best possible experience – and best possible outcomes.
How exactly?
Join America's Charities president and CEO, Jim Starr, and Pinkaloo CEO, Gideon Taub, on September 13, 2018 at 2pm ET for a quick 30-minute webinar to dive into the details of the new America's Charities' Modern Giving Solution, powered by Pinkaloo.
This webinar will:
Provide an inside look into how this more modern approach to employee giving works,
Demonstrate what makes Modern Giving different from other workplace giving solutions, and
Reveal how Modern Giving benefits your employees, your company's employee engagement and recruitment efforts, and your overarching social responsibility and Sustainable Development Goals (SDGs).
Don't want to wait until September 13th?
Click here to schedule a one-on-one demo and employee giving consultation with our team now. 
More From America's Charities
Monday, August 19, 2019 - 4:50pm
Tuesday, August 6, 2019 - 11:15am
Tuesday, July 30, 2019 - 7:30pm