Arrow Electronics Bridges Technology Gap by Connecting Students in Colorado and Storm-Ravaged Saipan
Arrow Electronics Bridges Technology Gap by Connecting Students in Colorado and Storm-Ravaged Saipan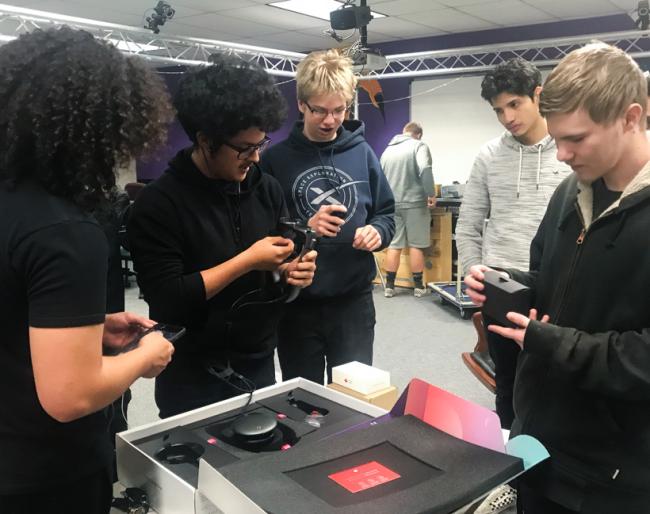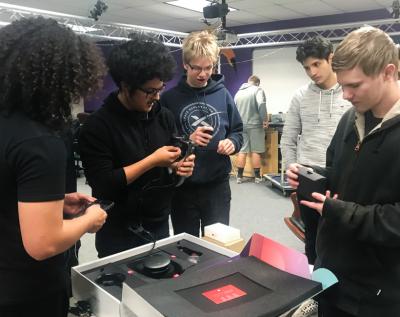 tweet me:
By sponsoring @COSucceeds, @ArrowGlobal helps Colorado high school students virtually collaborate with students in storm-ravaged Saipan, still recovering from super typhoon Yutu. #FiveYearsOut http://bit.ly/2UO0cDM #edcolo
Tuesday, April 16, 2019 - 8:30am
Through its sponsorship of the Colorado Succeeds Prize, Arrow Electronics is helping Colorado high school students virtually collaborate with their counterparts in the storm-ravaged U.S. commonwealth of Saipan. Part of the Northern Marina Islands, Saipan is still recovering from the super typhoon Yutu, which decimated the island in October 2018. 
Despite the destruction, Saipan's Kagman High School has been able to continue its partnership with William J. Palmer High School in Colorado Springs, which landed a 2018 Colorado Succeeds Prize to support technology-enabled learning. Led by teacher Sean Wybrant and Scott Fuller, a next-generation learning coordinator for Colorado Springs School District 11, Palmer High School students are creating augmented virtual reality (AR/VR) experiences to share with high schoolers halfway around the world at Kagman.
The Succeeds Prize — a partnership between the business community, Denver's KUSA-TV (9NEWS), Colorado Succeeds and mindSpark Learning — recognizes and rewards Colorado's transformational public schools and educators who are driving strong student success. 
"Arrow was proud to sponsor the technology-enabled learning award with Colorado Succeeds," said Alex West, Arrow's corporate social responsibility manager. "The program helps inspire collaborative values within the next generation of technology innovators."
Wybrant and his students have been working across the miles with Gerard Van Gils, a 2017 Teacher of the Year from the Commonwealth of the Northern Mariana Islands. Both schools are building 3D models from East Carolina University's Maritime Studies department and the Smithsonian in hopes of teaching others about the Saipan Maritime Heritage Trail and the Battle of Saipan. 
Wybrant's students have created a functional virtual reality museum that works with wireless headsets, allowing users to walk around the inside and touch a small virtual version of one of the World War II wreck sites in Saipan. A "teleport" feature enables visitors to jump from place to place once inside the environment. 
The project has also given students at both schools the chance to become teachers in their own right, documenting work and creating resources that are more accessible for others in similar circumstances. 
"People don't understand just how difficult it actually is for students who are trying to do the work first," explained Wybrant, who noted that original user documentation for the technologies the students are applying were not written in language they could easily understand. 
The partnership between Wybrant and Van Gils came out of conversations at various events. Van Gils teaches college preparation courses at Kagman and created the Million Dollar Scholars Program to match promising students with higher education opportunities not available on the island. Wybrant, a 2017 Colorado Teacher of the Year, saw an opportunity to not only take his own students further, but also make their learnings and capabilities accessible to others.
Instead of simply teaching students code, Wybrant wants to equip young people with the ability to apply next-generation technology to real-world problems and work well with others in the process — an essential skill for today's technologists. He plans to visit Saipan this summer with some of his students to exchange ideas and pass along what they've learned.
The Succeeds Prize is part of Arrow's Innovation in Technology award series, launched by the company to honor the world's brightest innovators and emerging technologies, transforming ideas into real and influential achievements that will help people and the communities in which Arrow works.  
Learn more at www.arrow.com/en/research-and-events
About Arrow Electronics
Arrow Electronics (NYSE:ARW) guides innovation forward for over 200,000 leading technology manufacturers and service providers. With 2018 sales of $30 billion, Arrow develops technology solutions that improve business and daily life. Learn more at FiveYearsOut.com.
More From Arrow Electronics
Monday, February 10, 2020 - 12:30pm
Monday, February 3, 2020 - 2:35pm
Thursday, January 23, 2020 - 4:20pm