The Arbor Day Foundation Recognizes Dr. Edward E. Louis, Jr. of Omaha's Henry Doorly Zoo and Aquarium with J. Sterling Morton Award
The Arbor Day Foundation Recognizes Dr. Edward E. Louis, Jr. of Omaha's Henry Doorly Zoo and Aquarium with J. Sterling Morton Award
The Award Honors Lifelong Commitment to Tree Planting and Conservation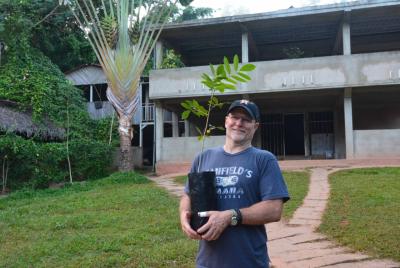 tweet me:
.@arborday Recognizes Dr. Edward E. Louis, Jr. of @OmahaZoo with J. Sterling Morton Award. #ArborDayAwards http://bit.ly/2E8WJt8
Monday, May 20, 2019 - 8:00am
LINCOLN, Neb., May 20,2019 /3BL Media/ — The Arbor Day Foundation has announced today that Dr. Edward E. Louis, Jr. has been awarded the Foundation's J. Sterling Morton Award. This award recognizes an individual who has had a positive impact on the environment due to his or her lifelong commitment to tree planting and conservation. Dr. Louis will be honored with the award on May 24 from 5:00 to 6:30 p.m. at the Omaha's Henry Doorly Zoo, Scott Aquarium Conference Center. 
Dr. Edward Louis Jr., a veterinarian and geneticist by profession, first travelled to Madagascar in 1998 as the director of the conservation genetics department at Omaha's Henry Doorly Zoo & Aquarium. Dr. Louis spent the following years studying endangered plants and animals on the island—with a focus on endangered lemur species.
In 2010, Dr. Louis established the Madagascar Biodiversity Partnership, an extension of the Henry Doorly Zoo. The Madagascar Biodiversity Partnership strives to protect and restore forests and endangered wildlife through community-based conservation and education programs.
"Dr. Louis is leading inspiring and meaningful work that is helping to restore the landscape of Madagascar," said Dan Lambe, president, Arbor Day Foundation. "His programs have created tree nurseries, provided education and steady income to Malagasy citizens, and protected endangered plants and animals on the island. We are proud to recognize Dr. Louis and the lasting impact of his work throughout Madagascar."
The Madagascar Biodiversity Partnership has helped plant more than 2.5 million trees, discovered more than two dozen animal species, supported 68 graduate students, employed 166 Malagasy people full-time and 207 part-time and engaged more than 3,000 Malagasy citizens in planting trees and restored habitat for critically endangered lemur species.
Since 1972, the Arbor Day Foundation has recognized the inspiring and life-changing work of leading environmental stewards and tree planters through the annual Arbor Day Awards. Award winners from previous years include the late Nobel Peace Prize winner Wangari Maathai, Maryland Governor Martin O'Malley, the United States Forest Service and Procter & Gamble.
This award winner is one of six being honored throughout the month of May for their outstanding contribution to tree planting, conservation and stewardship. More information can be found at arborday.org/awards.
About the Arbor Day Foundation
Founded in 1972, the Arbor Day Foundation has grown to become the largest nonprofit membership organization dedicated to planting trees, with more than one million members, supporters and valued partners. Since 1972, more than 300 million Arbor Day Foundation trees have been planted in neighborhoods, communities, cities and forests throughout the world. Our vision is to help others understand and use trees as a solution to many of the global issues we face today, including air quality, water quality, climate change, deforestation, poverty and hunger.
As one of the world's largest operating conservation foundations, the Arbor Day Foundation, through its members, partners and programs, educates and engages stakeholders and communities across the globe to involve themselves in its mission of planting, nurturing and celebrating trees. More information is available at arborday.org.
###