After 900 Days in Foster Care, Little Girl is Finally Home
Primary tabs
After 900 Days in Foster Care, Little Girl is Finally Home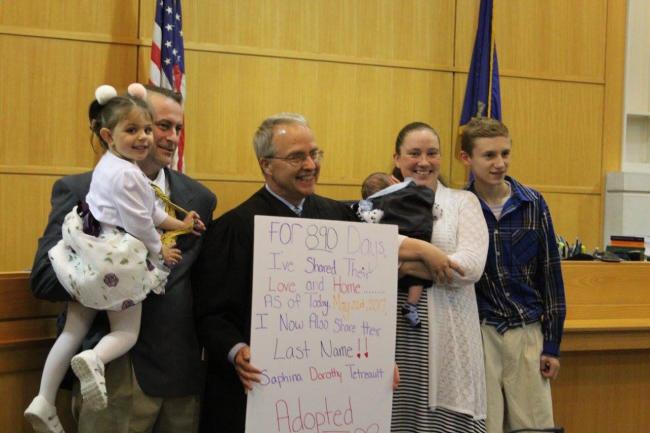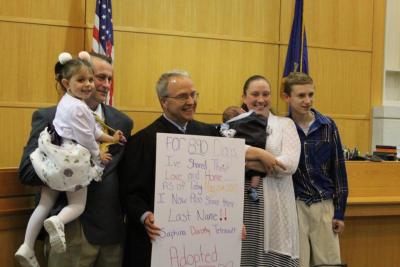 tweet me:
For 900 days in #fostercare, little Saphina didn't know if she'd ever have a #foreverfamily. Today, she's been #adopted and is thriving. http://bit.ly/2Ewsn2D @DTFA
Thursday, February 8, 2018 - 2:00pm
For nearly 900 days, little Saphina didn't know if she'd have a forever family. That's how long she spent in foster care before her last name was officially made "Tetreault."
Since then she has been thriving with her adoptive family. Her mom and dad dote on her and she has the family she deserves.
There are more than 117,000 children just like Saphina who are in foster care right now and need to be adopted. The Dave Thomas Foundation for Adoption, through its Wendy's Wonderful Kids Adoption Program searches high and low to find the perfect family for each waiting child.
The Foundation focuses on the children who are most likely to age out of care without a family and children who have been in foster care the longest. The work is tough, it can take a long time, but when you see a family created through foster care adoption and the judge declares them a family, it's worth it.
​Not everyone can adopt, but anyone can support foster care adoption. Learn more at davethomasfoundation.org.
More From Dave Thomas Foundation for Adoption
Wednesday, March 6, 2019 - 10:00am
Friday, March 1, 2019 - 10:00am
Friday, January 25, 2019 - 10:00am
Videos from Dave Thomas Foundation for Adoption