Aflac's Teresa White and Audrey Boone Tillman Honored Among 2019 Most Powerful Women in Corporate America
Primary tabs
Aflac's Teresa White and Audrey Boone Tillman Honored Among 2019 Most Powerful Women in Corporate America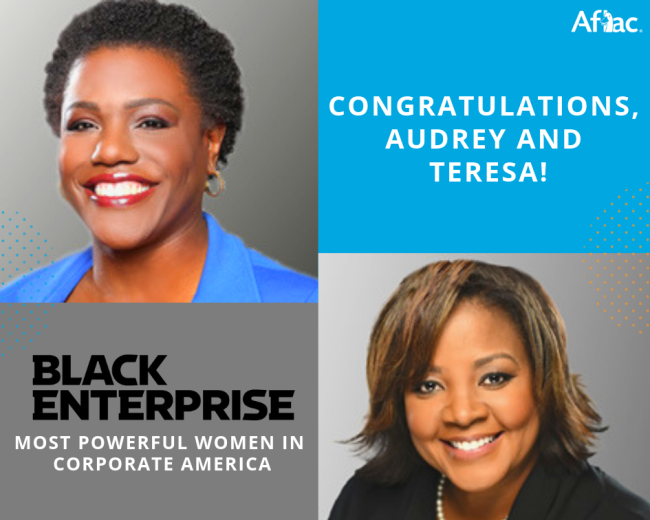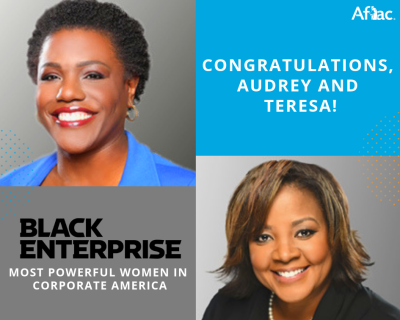 tweet me:
.@Aflac's Teresa White and Audrey Boone Tillman honored among @blackenterprise's Most Powerful Women in Corporate America http://bit.ly/2Bt7xRy
Tuesday, February 12, 2019 - 11:30am
NEWSROOM: Aflac
CONTENT: Multimedia with summary
As advocates of diversity and inclusivity, we are excited to celebrate the achievements of Aflac U.S. President Teresa White and General Counsel Audrey Boone Tillman, honorees on Black Enterprise's 2019 Most Powerful Women in Corporate America list. We are continuously inspired by their strong leadership and commitment to making a positive influence on future generations.
About Aflac
Aflac is a Fortune 500 company, providing financial protection to more than 50 million people worldwide. When a policyholder or insured gets sick or hurt, Aflac pays cash benefits fairly, promptly and directly to the insured. For more than six decades, Aflac supplemental insurance policies have given policyholders the opportunity to focus on recovery, not financial stress.
To learn more about Aflac, visit the company's website.
More From Aflac
Wednesday, May 22, 2019 - 2:00pm
Monday, May 20, 2019 - 8:00am
Thursday, May 16, 2019 - 8:00am