AccountAbility Publishes Its '7 Sustainability Trends' Facing the Global Business Community Over the Year Ahead
AccountAbility Publishes Its '7 Sustainability Trends' Facing the Global Business Community Over the Year Ahead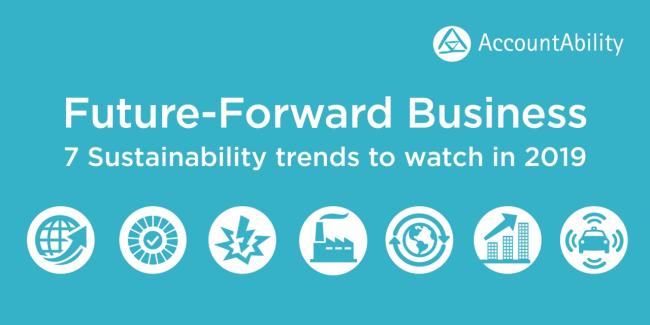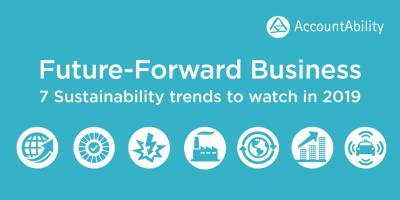 tweet me:
Future-forward business: @AAInsights have published AccountAbility's brand new #research report on 7 #sustainability trends to watch in 2019 #MondayMotivation https://www.accountability.org/accountabilitys-7-sustainability-trends-for-2019/
Monday, March 4, 2019 - 12:15pm
Automation. Urbanization. Impact. Supply chain intelligence. The shift to circular business models.
What do these trends have in common? They are all advancing the case for Corporate Sustainability and in turn, making it a core business issue within boardrooms and enterprises worldwide. These topics are intensifying the demand from customers, employees, investors, NGOs and governments for business to address Environmental, Social and Governance challenges.  
With the acceleration of these dynamics, further trends are created. These include the prospect that businesses will need to collaborate in order to make tangible contributions towards shared ambitions, and focus on understanding and articulating the real impact their organization is having on the global agenda.  
Through research and advisory work with clients in the US, Europe and Middle East, AccountAbility has identified seven key trends to help companies navigate the complex landscape of sustainable business challenges, and guide organizations towards effectively managing their performance and impact in 2019. AccountAbility encourages organizations of all sectors and sizes to take stock of how their business model will be affected and consider the upside opportunities for their company.
You can download the report here. We would love to hear what you think of these trends. Is your business already recognizing them? What actions are you taking to respond? Where are you finding the biggest challenges? Please feel free to talk with AccountAbility via @AAInsights
More From AccountAbility
Wednesday, December 18, 2019 - 8:30am
Tuesday, August 13, 2019 - 10:00am
Tuesday, July 30, 2019 - 9:00am