Mondi Group
Corporate Social Responsibility (CSR), Sustainability and Cause News & Media
Mondi Group
Primary tabs
Flexible Media Releases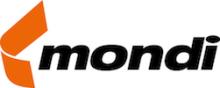 Mondi is an international paper and packaging Group, with production operations across 28 countries and revenues of €5.7 billion in 2011. The Group's key operations are located in central Europe, Russia and South Africa and as at the end of 2011, Mondi employed 23,400 people.
Mondi is fully integrated across the paper and packaging process, from the growing of wood and the manufacture of pulp and paper (including recycled paper), to the conversion of packaging papers into corrugated packaging, industrial bags and coatings.
The Group is principally involved in the manufacture of packaging paper, converted packaging products and uncoated fine paper (UFP).
Mondi has a dual listed company structure, with a primary listing on the JSE Limited for Mondi Limited under the ticker code MND and a premium listing on the London Stock Exchange for Mondi plc, under the ticker code MNDI. The Group has been recognised for its sustainability through its inclusion in the FTSE4Good UK, Europe and Global indices since 2008 and the JSE's Socially Responsible Investment (SRI) Index since 2007.