Barrick Gold Corporation
Corporate Social Responsibility (CSR), Sustainability and Cause News & Media
Barrick Gold Corporation
Primary tabs
Campaigns
Barrick Gold Corporation is the world's largest gold producer. We are committed to responsible mining, which includes:providing a safe and healthy workplace for all our employees;mitigating the environmental impacts of our operations; andsharing the benefits of mining with local...
Barrick Gold Corporation ON SOCIAL MEDIA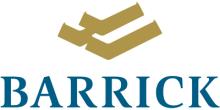 About Barrick Gold
Barrick is the world's largest gold mining company. We operate mines on five continents with 26,000 employees worldwide.
About Responsibility at Barrick Gold
From exploration to reclamation, modern mining factors in the world around it. We want to build the world's great mines, so corporate social responsibility is an integral part of our global business strategy.
Our commitment is making Barrick a better company. We strive to play our part in the world around us, every day.